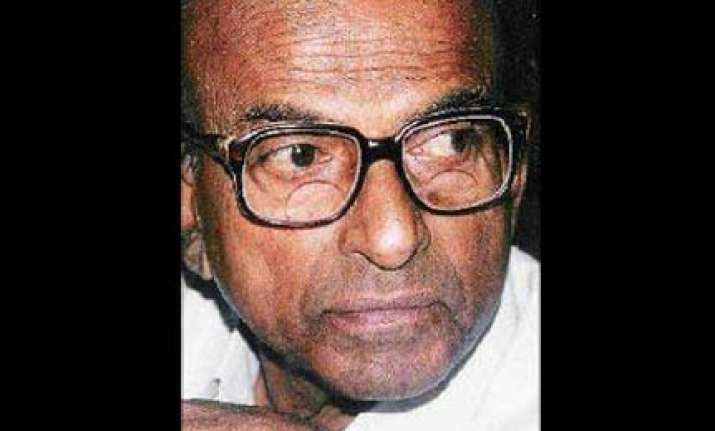 Kanu Sanyal, the legendary founder of the Naxalite movement of the 60s in West Bengal, that heralded a violent struggle and had claimed thousands of lives, died on Tuesday, apparently by committing suicide.
78-year-old Sanyal, a bachelor, was found hanging in his room at his residence in Seftullajote village, 25 km from Siliguri, Inspector General of Police (North Bengal) K L Tamta told PTI.
He was suffering from age-related ailments of which kidney and prostate problems were severe.
At the time of his death,  he was General Secretary of a new CPI(Marxist-Leninist) group, formed by the merger of serveral splinter groups of the original party.
Along with co-Chairman Charu Mazumdar and Jungal Santhal, Sanyal formed the dreaded triad that gave birth to the Naxalbari movement, which in the later years had transformed into the even bloodier Maoists struggle but he had openly disapproved of the strategy of armed struggle after his release from jail in 1977.
The trio spearheaded the movement which began with a peasant uprising at Naxalbari, a small village, on May 25, 1967 in North Bengal.  The then Officer-in-Charge of Phansidewa police station Amarendranath Pyne was killed by an arrow shot by the Naxalites, as they came to be known, thus starting a series of killings of landowners, policemen and those associated with the establishment.
As founder, he had  formally announced the formation at the Sahid Minar in Kolkata on April 22, 1969.
The CPI(M), which had earlier buried its political hatchets with Kanu Sanyal, condoled the death of one of the founders of the Naxalite movement, terming it as "very unfortunate".
The party's Polit Bureau member, Sitaram Yechury, said Sanyal had been critical of the line adopted by Maoists for quite some time.
 "His death is very unfortunate. Of late, particularly after Nandigram and Lalgarh, he has been saying that the line adopted by Maoists do not conform to the revolutionary understanding (which was adopted) at the time when they had started the Naxalite movement" in late 1960s, Yechury said.
Sanyal, along with Charu Mazumdar and Jangal Santhal had launched a militant peasant movement from the Naxalbari village in the same district in 1969 after splitting from the CPI(M) and formed the CPI(ML). 
Yechury said Sanyal was also participating in all major agitations and programmes called by the CPI(M)-led Left Front in Bengal against imperialism and other issues.