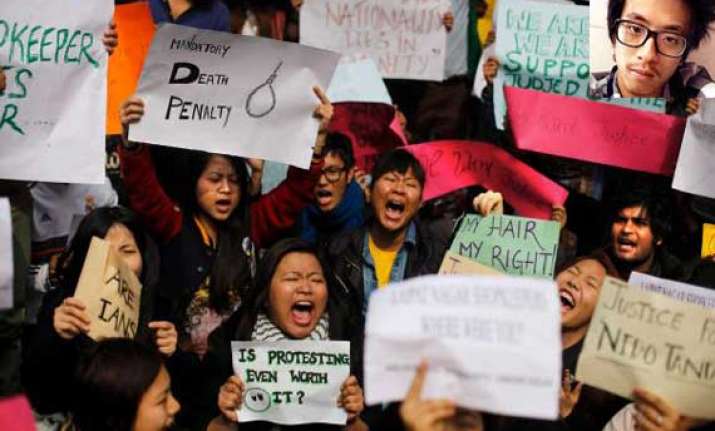 New Delhi: Nido Tania was a shy guy, but he was suddenly provoked when the shopkeeper of a paneer bhandar in Lajpat Nagar market, made fun of his coloured hairdo.
"I think when the shopkeeper made fun of his hairstyle, he could not take it. Otherwise he was never violent", said Tayu Hage, 23, a close friend of the Arunachal Pradesh MLA's son.
Nido first stujdied in Ramakrishna Mission School in Deomali, and then moved to DPS Panipar after completing his Class X.  He got himself admitted to Lovely Professional University to pursue BA in sociology.
"Nido was one of my simplest friends. He like to go the gym, loved wearing fashionable clothes and accessories. I cannot speak anymore", said Rickam, a childhood friend.
The 19-year-old Nido was still getting used to city life in Delhi, when disaster struck.
Meanwhile three pages called Justice For Nido Tania have come up on social media in the past 24 hours.  These pages share messages condemning the racial attacks on people from Northeast, and also give out details of protests and candlelight vigils in Delhi.
One of the shared messages is addressed to "fellow citizens of India".
The message says "If we dress like a Rock star because we are born with Music and are talented. Is there any wrong?"
One post says "Come to our region.. we will take you around our neighbours and will try to be your best companions instead of giving you names".
Meanwhile a delegation of Northeast students met Delhi chief minister Arvind Kejriwal on Saturday evening and demanded action against the culprits. Kejriwal promised to take up the matter with Delhi Police.