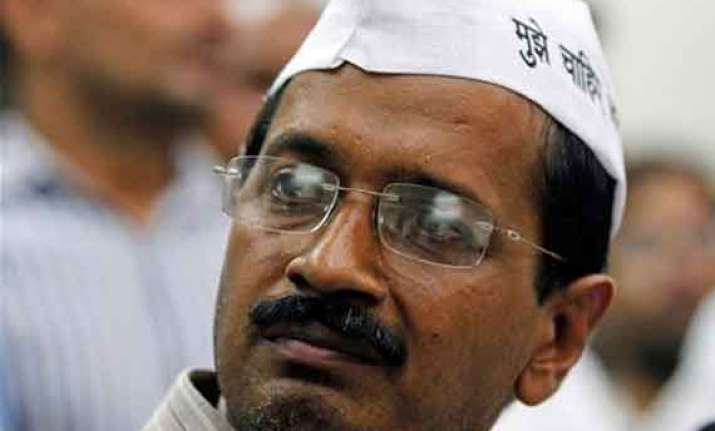 New Delhi: Delhi chief minister Arvind Kejriwal has written a controversial letter to Lt Governor Najeeb Jung saying that he was working under pressure from Congress and the Home Ministry to scuttle the Jan Lokpal Bill.
Read the letter here in full:
Arvind Kejriwal, Chief Minister.
DO No. SecyCM/14/135 Date 07/02/2014
Hon'ble Shri Najeeb Jung Sahib,
I had always considered you a nice human being and my  well-wisher. I highly respect you, but the events of the last few days has caused me immense pain. I am writing this letter to express that pain. If you feel some of the remarks made in this letter as harsh, I express my apology in advance.
Since yesterday the media has been saying that the opinion of Solicitor General of India has probably been sought on the Delhi Jan Lokpal Bill.
According to news reports, the Solicitor General has given you the opinion that the Delhi Jan Lokpal Bill is unconstitutional and it would be unconstitutional to introduce it in the Assembly without the clearance of the President.
When I heard this news on TV channels yesterday, my surprise knew no bounds because we had sent you the copy of the bill yesterday evening itself.  Then on which bill did you seek the Solicitor General's opinion?  Even if you may have had sought any opinion, if you had discussed with me, I could have shown you the copy of the bill and had explained all points, but the Solicitor General's opinion was flashed directly on the media.  The media yesterday raised two questions, the answers to which are given below:-
1. Is Delhi Jan Lokpal Bill unconstitutional?  A high-powered committee was set up to draft the bill. Delhi chief secretary  was the chairman of this committee. Among other members were Delhi Law Secretary, Finance Secretary and reputed lawyer Shri Rahul Mehra.  
All of them jointly prepared the first draft of the bill.
The draft was sent to each department and their opinions were sought.
Based on their opinions, several changes were made and ultimately the Law ministry prepared the final draft, on which the Cabinet discussed in detail.
How did the Solicitor General declare it unconstitutional without reading the draft?