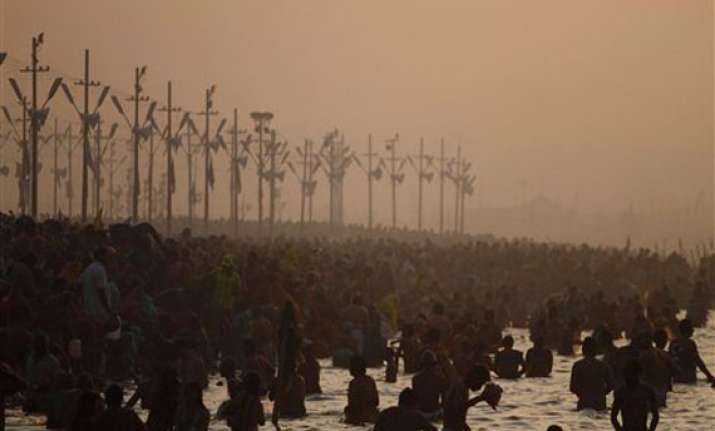 Allahabad, Feb 25: The penultimate bathing day of the 55-day Maha Kumbh - Maghi Poornima - began early Monday at the Sangam here, with lakhs taking an early holy dip in the Ganga.
The day is special as the "Kalpawasi" pilgrims end their month-long penance and sabbatical from worldly life on Maghi Poornima.
More than 1.5 crore devotees are likely to take a holy dip at the Sangam - the confluence of rivers Ganga, Yamuna and the mystical Saraswati Monday.
The Kumbh mela administration has deployed extra police forces to man major intersections and roads in the sprawling 52 sq km mela premises. Photography has been banned at all bathing ghats, on the basis of a high court directive.
Special traffic arrangements are in place to divert devotees to less congested roads and ensure smooth exit after the ritual bath.
Still haunted by the tragic stampede of Feb 10 on Mauni Amavasya at the city railway station which left 37 dead, the railway protection force (RPF), civil police and the government railway police (GRP), along with Indian Railways, has made elaborate arrangements for the return of the crowds after bathing.
To meet the extra demand, the railways has opened additional ticketing counters at Prayag Ghat, Rae Bareilly, Lucknow, Faizabad, Ayodhya and Sultanpur.
Extra coaches too have been added to trains plying between Lucknow and Allahabad, a railway official told IANS.
"Additional teams of officials have been sent to all stations and all care is being taken to ensure smooth passage of the Maghi Poornima bathing," senior divisional commercial manager Ashwani Kumar Srivastava said.
The administration is on tenterhooks as it rained during the weekend, making the temporary roads unmotorable; large areas have been turned into swamps by rain.
According to the ascetics at the Kumbh, the auspicious time for bathing began at 1:40 Sunday night; it will continue till 2:01 a.m. Tuesday.
"Most people will take a bath during the auspicious time, though technically, bathing time ends at 1:41 p.m. Monday, for 'Bhadra' is on till then. The Kalpavasis, who slept on thatched floor, gave up worldly life, cooked for themselves and lived in solitude since Makar Sankranti (Jan 14), will Monday disband their hutments and head back home. They will also take along a plant of Tulsi that they sowed on the first day of their Kalpwas," one ascetic explained to IANS.
The Kumbh, which falls after every 12 years, began this year at Allahabad Jan 14; it is set to conclude March 10, Maha Shivratri day.