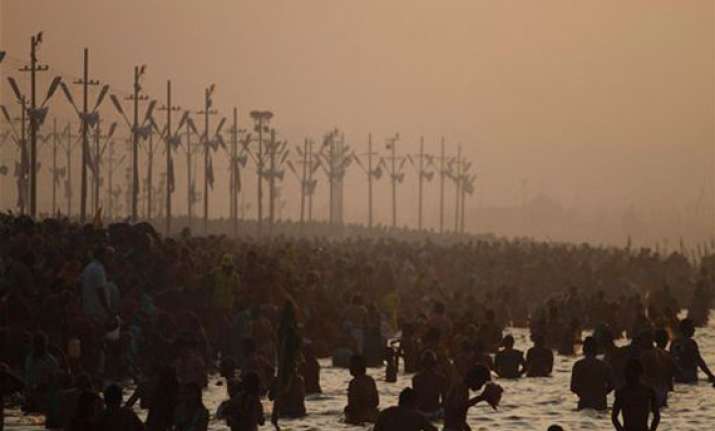 Allahabad, Feb 15: Elaborate arrangements have been put in place by the administration and the Railways for the third and last 'Shahi Snan' of the Maha Kumbh here today in the wake of the stampede at railway station here.
As a gesture of condolence 'akharas' have decided to keep their bathing processions a low-key affair.
"We have been assured by the Railways that it will be running more than 70 special trains, other than the regular ones, in the next three days to ensure safe return journey of pilgrims coming for a holy dip in Sangam here on Basant Panchami on Friday," said Devesh Chaturvedi, Divisional Commissioner of Allahabad.
Chaturvedi is also the nodal officer for the Kumbh Mela.
"Besides, 1,500 buses in addition to the routine ones will be plied by the Uttar Pradesh Roadways. People can catch from seven bus terminuses, five of which are temporary ones set up especially for Kumbh," Chaturvedi said.
"Entry of heavy vehicles into the city has been banned since this morning and the restrictions will remain in place till the evening of February 16," he said.
"The crowd expected tomorrow is likely to be significantly lower than what was witnessed on Mauni Amavasya on Sunday. However, we are taking no chances and making all efforts to ensure that no mishap takes place.
"Our main focus is on preventing a large crowd gathering at any particular point when pilgrims begin their return journey," Divisional Commissioner of Allahabad Devesh Chaturvedi said.
Chaturvedi, who had held a meeting with officials of the district administration, the Kumbh Mela administration and the Railways on Wednesday, said "a decision has been taken to utilise parks and large buildings in the vicinity of stations as temporary waiting rooms for passengers where facilities like drinking water, beverages and snacks would be made available".
He added that two senior IPS officers, one of of IG rank and the other of DIG rank, have been "especially deployed by the state government to oversee security arrangements during the Basant Panchmi Shahi Snan".
Meanwhile, the Akhil Bharatiya Akhara Parishad has decided to "take out Shahi Snan processions without the usual fanfare", the secretary general of the Parishad Hari Giri said in a statement.
He said a decision to this effect was "taken at a meeting of the Akhara Parishad which was attended by representatives of all the 13 akharas".
37 people were killed in the stampede, which took place at the Allahabad Junction on Sunday, February 10 on the auspicious occasion of 'Mauni Amavasya'.