Follow us on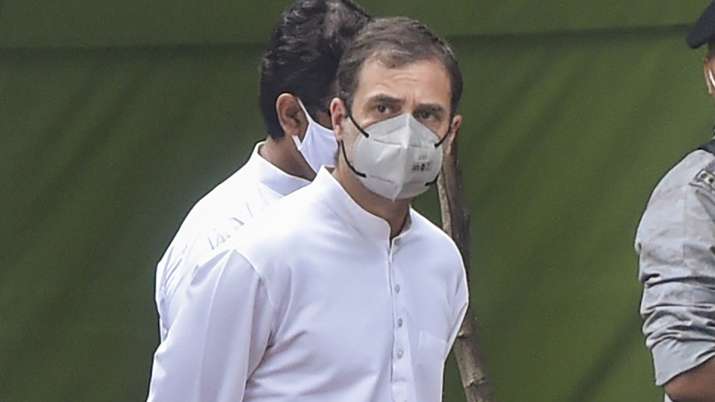 A delegation of Congress leaders will meet President Ram Nath Kovind on Wednesday at 11:30 AM to submit a memorandum of facts on the Lakhimpur Kheri violence.  
The seven-member delegation will comprise former party president Rahul Gandhi, Leader of Opposition in the Rajya Sabha Mallikarjun Kharge, senior party leaders AK Antony and Ghulam Nabi Azad, Congress leader in the Lok Sabha Adhir Ranjan Chowdhury, party general secretary Priyanka Gandhi Vadra and KC Venugopal.
"We are going to the President with the hope that the President as an institution is above all party line. We hope he will intervene and will give justice to these farmers," party spokesperson Pavan Khera told India TV.
When asked if this will help Congress party electorally in upcoming assembly elections in Uttar Pradesh, he said, "I don't think elections are on anybody's mind when you go to condole a grieving family...obsession with the election is BJP's forte we will continue to stand by the victims across the country," he added.
The Congress has been demanding the immediate dismissal of Union Minister of State for Home Ajay Mishra whose son Ashish has been named in the FIR and is accused of mowing down farmers in Lakhimpur Kheri on October 3, and strict action against the accused in the killing of farmers. Ashish was arrested on Saturday by the Uttar Pradesh Police in connection with the violence, in which eight people, including four farmers, were killed.
Terming the mowing down of farmers as a "shocking incident of broad day massacre", Venugopal had said it has shaken the conscience of the entire nation. He said that Congress will seek to present a detailed memorandum of facts on the Lakhimpur incident. He lamented that despite all-around protests and intervention of the Supreme Court, no decisive action has been taken either against the guilty or against the minister.
With UP assembly elections round the corner, Congress' UP General Secretary in-charge Priyanka Gandhi Vadra has already addressed a mega 'Kisan- Nyaya' rally In Prime Minister's Lok Sabha constituency, now Congress by trying to knock on the doors of the president is trying to capture the space of opposition in the state of Uttar Pradesh.
Party has vociferously been raising the issues of the farmers, with general secretary Priyanka Gandhi Vadra camping in Lakhimpur Kheri herself. She recently addressed a mega 'Kisan- Nyaya' rally in Varanasi which happens to be Prime Minister Narendra Modi's Lok Sabha constituency.
READ MORE: 'Fake sympathy' posters targeting Priyanka Gandhi over 1984 riots surface ahead of Lakhimpur visit