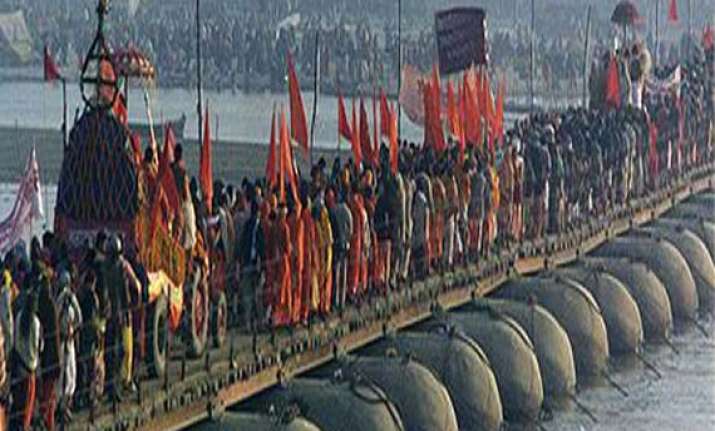 Allahabad, Dec 26: Days before the Kumbh Mela is going to begin at Prayag,  trouble is brewing between two Shankaracharyas, and this will be decided by  a shaastraartha (theological debate) between the two - Swami Narendranath Saraswati of Sumeru Math, Varanasi and Swami Swaroopanand Saraswati, the Shankaracharya of Dwarka Peeth and Badrinath Joshimath.
The challenger, Swami Narendranand Saraswati has said the loser of the 'shaastraartha' must take 'jal samadhi' (watery grave) at the Prayag and surrender all his property to the winner.
The debate is going to take place on Vedas, Puranas and Upanishads, the main theological works in Hinduism.
The debate  will be over who has mastered the teachings or beliefs under the 14 vidyas (schools of knowledge) of Sanatan Dharma.
The heads of seven peethas (seats) of Hindu religion do not recognize  Swami Swaroopanand Saraswati as a genuine shankaracharya.
In fact, they say that he is a fake. Swaroopanand however challenges the belief and claims that he represents two seats- Joshimath in Badrinath and Dwarkapeeth.
He claims to have inherited the title of Shankaracharya of Dwarka peeth way  back in 1982.
The dispute is pending in the court since then and rakes up at each Kumbh mela.
Swami Swaroopanand Saraswati and Swami Narendranand Saraswati of Sumeru Math came face to face on Sunday in Allahabad, and there were charges and counter-changes galore, after which Swami Narendranand threw an open  challenge to Swaroopanand.
"Swamiji has challenged Swaroopanand to contest him in shastrartha on January 10.  The one who loses will have to take jal samadhi in the sangam. But before that, he will have to name all his property to the winner," said Swami Narayan, secretary to Swami Narendranand Saraswati. Swami Swaroopanand has accepted the challenge.
It may be noted that as many as 35 mathas find a mention in (page number 22-24) Sharirik Mimansa tika (chapter) of Brhamsutra Shankar Bhasya (commentary on Vedic literature by Adi Shankaracharya).
Seven of them are listed in the principal category. These include: Sumeru Math in Kashi (Varanasi), Uttar Pradesh, Sringeri Sharada Peetham in Chickmagalur Karnataka, Jyotirmath (also known as Joshimath) in Badrinath, Uttarakhand, Sarvagya Math in Srinagar, Kashmir, Shardapeeth in Dwarka, Gujarat, Kanchi Kamakoti Peetham, Kanchipuram, Tamil Nadu and Govardhan Math, Puri, Odisha.