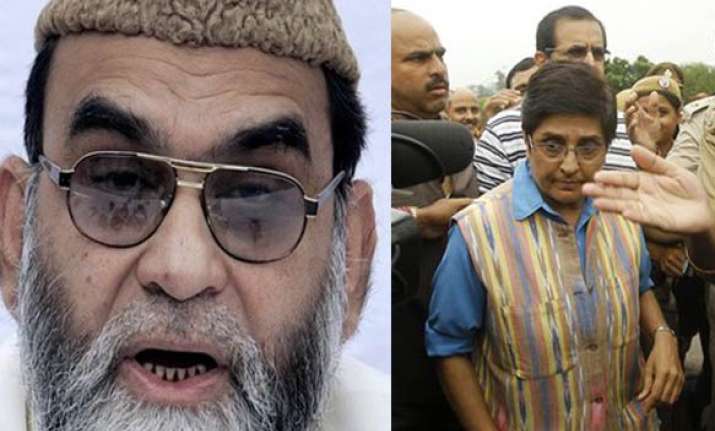 New Delhi, Aug 23: Team Anna member Kiran Bedi had a 105-minute long meeting with Jama Masjid Shahi Imam here on Monday night at the latter's residence during which the Shahi Imam requested Bedi to include the issue of communal harmony in Anna Hazare's campaign. 

Later Shahi Imam Syed Ahmed Bukhari told newsmen that he was in support of removing all anomalies from the government's Lokpal Bill. The Bill should be such which the people want, he added.

Bukhari told Bedi that the Muslim community was ignored when the Joint Drafting Committee was set up. "I have requested her to include the issue of communal harmony in the campaign, which is a vital issue. There should be slogans for Hindu-Muslim unity so that the feelings of any one community should not be affected."

On her part, Kiran Bedi agreed that she would persuade her associates to add the issue of
communal harmony in the agenda. She invited Shahi Imam to attend the congregation at Ramlila Maidan, but the latter did not give any firm reply.

Arvind Kejriwal was to join the discussions, but he could not attend due to his busy schedule. PTI adds: Earlier, contending that communalism was as bigger a threat to India than corruption, the Shahi Imam on Monday asked Anna Hazare why he and his campaign managers did not do more to involve Muslims in their anti-graft movement.

At a time when Hazare's campaign has caught the imagination of the country, Bukhari said the Gandhian needed to learn more from the Mahatma on how to spin all sections of
the society together in a mass movement.

Bukhari said while he very much believed that corruption needs to be weeded out of the country, it was equally important to tackle communalism by addressing the problems of
Muslims.

"He could at least have met some members or leaders of the minority community and offered to rub a balm on our wounds. He could have also made references against communalism as part of his campaign to make it look more inclusive," Bukhari told PTI, recalling how some days earlier Hazare had praised Narendra Modi.

The Imam also pointed out that slogans of 'Vande Mataram'and 'Bharat Mata ki Jai', that were a staple of Anna's campaign, did not make Muslims any comfortable.

"Why not raise more inclusive slogans like Hindustan Zindabad or Jai Hind," he asked, complaining that there was no effort on part of the campaign leaders to involve the
community into their fold.

"When Gandhi took up a cause, he made sure he included in it grievances of every Indian constituency, only then did his campaigns take up the shape of an unassailable national movements," he said.