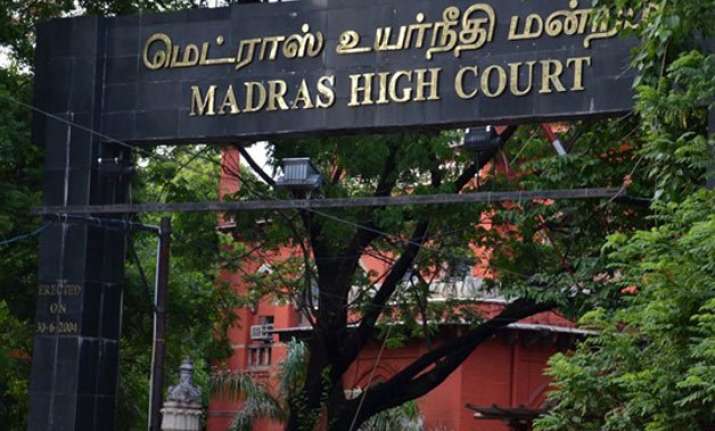 Chennai: Madras High Court on Tuesday ruled that police action "done in exercise of the right of private defence" could not be termed as an offence.
The ruling came in a five year old encounter case of two criminals, Dindigul Pandi and Velu, gunned down by the policemen in an act of  self-defence on February 8, 2010. The two criminals  were accused in several cases.
It states that "an action done in the exercise of the right of private defence can't be termed as an offence under Section 96 of IPC".
The judgment underlines that every person has a right to defend his own body or the body of any other person, against any offence affecting the human body.
The ruling was given by a bench of Chief Justice Sanjay Kishan Kaul and Justice M M Sundresh.
The PIL on which the ruling was given was filed by advocate P Pugalenthi, director of NGO Prisoners Rights Forum, through which the petitioner sought directions for the Tamil Nadu government to register a case of murder against the police personnel who were involved in the encounter of Pandi and Velu.
Police told that the vehicle of the two accused was intercepted basis the reliable information obtained from police sources and when followed, the duo started attacking policemen with sickles, gun and a country bomb, in retaliation and self-defence of which police opened fire on them due to which they got killed.
M Radhakrishnan, counsel for Pugalenthi, said the self-defence plea was available to police personnel only at the time of trial, and that the jurisdictional police ought to have registered an FIR and investigated. Since the death had occurred at the instance of police personnel, an independent inquiry ought to have been initiated, he said.
In its order, the bench pointing towards the exhaustive report submitted by the Revenue Divisional Officer affirmed that an exhaustive inquiry was conducted and statements from different persons, including the family members of the deceased were also obtained. Publications calling for statements were also made in dailies having wide circulation. The report was also accepted by the government.
 "we do not have any factual premise leading to a conclusion of an offence having been committed, " the bench further said while pointing out that the PIL-petitioner had not assailed the report.