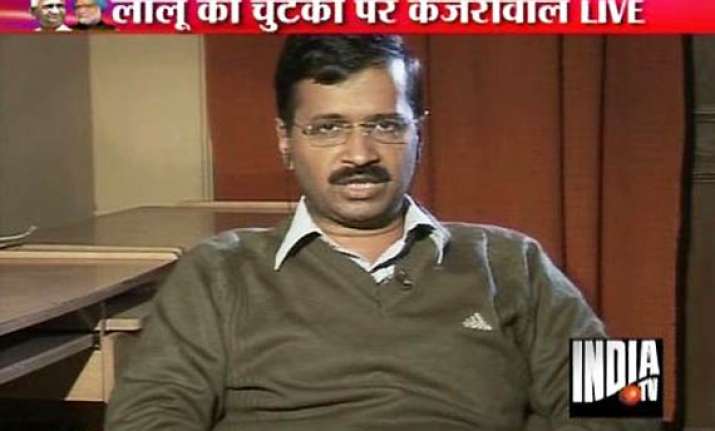 New Delhi, Dec 23: Senior Team Anna member Arvind Kejriwal today lashed out at RJD chief Lalu Prasad saying he made the entire Lok Sabha introductory debate on Lokpal Bill "frivolous".
 
In a live chat with India TV, Kejriwal said, if CBI comes under the Lokpal that we want, then leaders like Lalu Prasad will be the first person to  go to jail.
 
In support of his contention, Kejriwal said, had the CBI been really independent, it would have filed appeals  against the trial court verdicts in the fodder scam in Bihar.
 
"Agar CBI Lokpal ke under aaya, to Lalu jaise neta sabse pahle andar jayenge" (If CBI comes under Lokpal, leaders like Lalu will be the first to go to jail), he said.
 
On Bombay High Court rejecting Team Anna's petition, Kejriwal said, our Mumbai friends should not have approached the High Court for the fast venue. "This is not a legal matter, it's an administrative matter", he added.
 
On the Bombay High Court lashing out at Team Anna for sitting on fast even when the Lokpal bill has been tabled, Kejriwal said: "I have the highest regard for judiciary, but Art 19(1) of the Constitution gives us the fundamental right for  carrying out peaceful protests.
 
"Whether we sit in protest even when Parliament is in session or not, is not within the mandate of the judiciary", Kejriwal said in his strong riposte.
 
"When did we say that Parliament cannot enact law. Let Parliament enact its law, but even when the debate goes on in Parliament, a debate can also go outside Parliament. This is a positive side to engagement", Kejriwal said.
 
On Lalu lashing out in his speech at a retired police official, two lawyers and some social activists trying to browbeat Parliament, Kejriwal replied : "Let him not listen to these people, but he must listen to the voice of the people, otherwise  the situation will become difficult. Parliament has to respect the demands and aspirations of the people."
 
Kejriwal reminded Lalu Prasad that he was among those in the JP movement who had gone to jail in protest over what Parliament was enacting during the Emergency days in 1975.
 
"Was it not a movement against Parliament? Then why is he having problems now?  It is because he has some vested interests in opposing the Lokpal bill."
 
On Bombay High Court saying the fast at Azad Maidan could become a "nuisance" to other people, Kejriwal said: "Let's think of the millions who are against the Lokpal Bill. We staged so many protests in Delhi, but not a single person was put to inconvenience.  Even the Delhi Police praised us saying our car rally in Delhi was disciplined. We never inconvenienced anybody during our protests".
 
"And, let me make it clear:  Anna has no cadre of his own. Anna is an individual fighting for an idea and people on their own are coming forward", Kejriwal said.