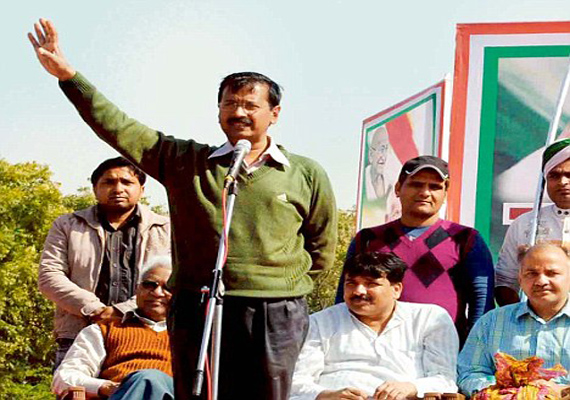 Greater Noida, Feb 26: Speaking before a sparse crowd of about 2,000 people in Greater Noida on Saturday, Kejriwal called MPs 'robbers', 'murderers' and 'rapists', and went to the extent of saying that Parliament had become a 'problem' for the country.

After lying low following Anna Hazare's disastrous fast in Mumbai, his key aide, Arvind Kejriwal, was back to courting headline-grabbing controversy by making distasteful and outrageous comments against MPs.

Political parties, cutting across ideological affiliations, were quick to condemn his verbal attack and said it amounted to a breach of parliamentary privilege.Arvind Kejriwal was speaking before a crowd of 2,000 when he made the controversial comments

'All types of elements have entered Parliament, including robbers, murderers and rapists,' Kejriwal declaimed.'Parliament has become the biggest problem of the country. It is now essential to change its character,' he added.

Kejriwal, obviously undeterred by the breach of privilege notices issued (and then withdrawn) not so long ago to Team Anna members, aired his opinions during an 'awareness summit' for voters organised by a local organisation called Jan Sashaktikaran.

And he did not stop with just a couple of observations. Urging UP voters to elect legislators who were in favour of a strong Lokpal, Kejriwal said, 'I am sure after these elections the people will lose and these parties and their leaders will win. We have always got a loot-tantra.' He termed the probes against politicians accused of being involved in corruption scandals as 'just a drama'.

Suresh Kalmadi, A. Raja and Kanimozhi, Kejriwal said, 'are sent to jail for just a few days and come out very quickly'.The CBI, he added, had become a tool in the government's hands. The Congress reacted by saying the outburst wasn't worthy of a reaction.

'Such intemperate comments do not have to be dignified with a reaction,' party spokesperson Manish Tiwari said.The BJP, which had tacitly backed Team Anna's campaign, was furious at Kejriwal crossing the line.

'I haven't seen his comments, but if he has made such remarks, it's unfortunate,' party spokesperson and MP Prakash Javadekar said. Foot in mouth

'It could be seen as an attempt to denigrate Parliament and MPs will raise this matter during the upcoming Budget session. People who denigrate Parliament are denigrating democracy,' he added.

Similar strong sentiments were expressed by veteran CPI leader and MP Gurudas Dasgupta, who said, 'Kejriwal's comments were in bad taste. Such statements are unknown in the vocabulary of a gentleman. This is nothing but an attempt to denigrate Parliament.'

Kejriwal, though, didn't seem to think so. Lashing out at MPs for 'cheating the nation on the issue of Jan Lokpal', the Team Anna core committee member called for a 'revolution'.

He said, 'We need a complete revolution in the country and a change of the system.'

Unrelenting in his attack on the government, Kejriwal said, 'The government's talk of giving constitutional status (to the Lokpal) means nothing because it has no power, not even investigative powers. The government's version of the Bill is like a dead body being offered floral tributes.'

Team Anna members have been addressing rallies in Uttar Pradesh, where assembly elections are underway. In the past, their main target has been the UPA, particularly the Congress.

Even before the elections in UP were announced, they had declared their plan to campaign against the Congress.But on Saturday, Kejriwal, like the proverbial loose cannon, directed his barbs at all parties and their leaders.

'People like Lalu, who ridiculed Anna and his health in Parliament, did not insult him but the entire country. These people have become 'kings' and have completely forgotten that they are actually public servants,' Kejriwal said.

'Who says only a rich man pays taxes? Even a poor man earning Rs 20 per day or Rs 600 per month pays 10 per cent of his income as tax. That means even a beggar pays Rs 60 of his earnings as tax. It is with such money that Lalu and Rabri are earning money and sitting inside air-conditioned roomed,' Kejriwal declared amid applause from the gathering.

He said Team Anna had lost faith in the entire political class and did not expect them to work for development in the state.

'The Congress wants to have UP, but they already have the entire country with them. What have they done there? What has the BJP done in Madhya Pradesh, Chhattisgarh and Himachal Pradesh?' he asked.

He then directed his attack at the regional parties. "The SP was here until five years ago and they were involved in a Rs 2 lakh crore ration theft and pilfering thousands of crores of rupees in police recruitments. The BSP remained with you for 10 years and they looted you," Kejriwal alleged.

The Samajwadi Party, incidentally, also indicated that it was planning a breach of privilege move against Kejriwal.

The Team Anna member, meanwhile, pointed out how all parties and candidates were striving to get the better of each other by making false assurances and lampooning rivals, but none talked sincerely about improving law and order and reining in corruption.

His colleague, Manish Sishodia, added: 'All parties are the same. Mulayam Singh wants to give free laptops to children, but there is no power in the state to charge these laptops. They want to distribute free laptops so that they can pocket commissions on each.'

Brave words, but will the targets of their attack let Team Anna get away with suchpronouncements? The Budget session will have the answer.