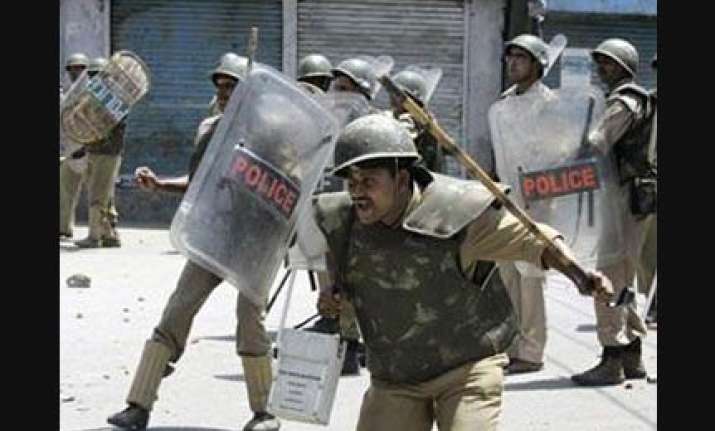 Srinagar: After five days of violence, the Kashmir Valley on Wednesday  remained by and large peaceful as security forces enforced curfew and kept a close vigil on the law-and-order situation.
"The situation in the Kashmir valley remained by and large peaceful," a state government spokesman said.  Meanwhile, one Iqbal Ahmed Khan from Chanapora, who had received bullet injury on July 30, passed away at a hospital in Soura, he said.  With this, the number of people killed in the violence in the Valley since last Friday has gone up to 29.
Giving details of minor incidents since this morning, the spokesman said one vehicle of 9th India Reserve Battalion was damaged in Pampore by some protesters while one condemned Gypsy vehicle was set on fire in Qamarwari area.  
In Shopian, a mob attacked the Forest Protection Force complex comprising about 10 buildings and tried to set the complex on fire and the vehicles parked in the compound.  Police party, which immediately reached the spot, was able to save eight buildings and three vehicles, he said.  However, protesters set ablaze two buildings and gutted one vehicle, he said. Police said a group of agitators pelted stones on passing vehicles on the Srinagar-Leh National Highway but no one was hurt.   
Curfew remained clamped in the violence-hit Valley with restrictions continuing in all the 10 districts of Kashmir for the sixth day.
Meanwhile, hardline Hurriyat leader Syed Ali Shah Geelani made a surprise appeal to agitators not to indulge in arson but demonstrate peacefully.  The 80-year-old Jamaat-e-Islami leader said those indulging in stone pelting, burning offices, railway stations and vehicles "did not belong to the Kashmir movement" and were only causing harm to the issue.
Geelani, who was recently released from the custody by state government, asked people to undertake peaceful demonstrations and stage sit-in wherever they are stopped.
Meanwhile, the Centre has assured the Omar Abdullah government in Jammu and Kashmir of its full support including an economic package to establish peace and normalcy in the Valley. 
An assurance to this effect was given to a high-level Congress delegation which met a host of central leaders in Delhi including Prime Minister Manmohan Singh, J and K Minister for Cooperatives Manohar Lal, who was part of the 30-member team said. 
The delegation was assured of an economic package, full support and backup to the Omar-led government to deal with situation and bring back peace and normalcy in the state, he said. 
Besides the Prime Minister, the 30-member delegation led by CLP leader Choudary Mohmmad Aslam called on Union Ministers Gulam Nabi Azad, A K Antony and Minister in the PMO Prithvi Raj Chouhan, he said.  The delegation also told the central leaders about the shortage of forces in the Valley to deal with the situation, he said. PTI