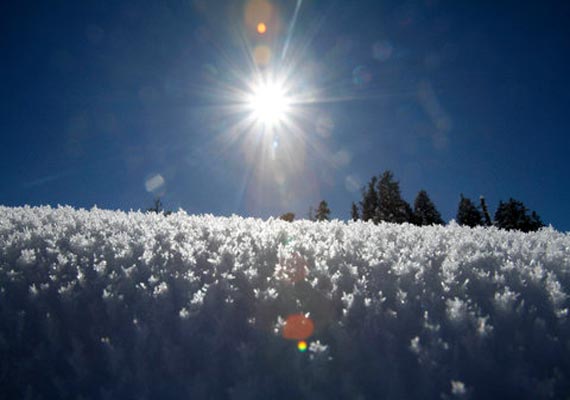 Gulmarg, Kashmir, Mar 23:  Installation of solar panels in the  northern hill town of Gulmarg in Kashmir valley has  provided the much needed boost to the tourism industry.
Picturesque tourist destinations  like Gulmarg, Pahalgam, Sonmarg attract millions of tourists from all over the world every year in all seasons especially winter.
Tourists flock to Kashmir to witness the snowfall, when the entire valley is covered with a white blanket during winter.
Gulmarg is a beautiful tourist destination but frequent and long power cuts in the valley  had been creating problems for tourists as well as hoteliers and hut owners.
However, this year, the authorities took the initiative to provide power to the hotels and other places in the area by installing  solar panels.
"While we have frequent power cuts during snowfall,  electricity goes off for more than 24 hours or 48 hours. So it was unbearable to run a resort without power. We took up the matter with the Ministry of non-conventional energy. 
The ministry  launched a scheme for subsidizing  projects which are based on solar energy," said state tourism director in Kashmir Talat Parvez.
Acute power shortage had been preventing tourists from using basic amenities like hot water, lighting and cable services.
"I have come here after four years. This winter here is better because of the solar panels, and we are getting continuous supply of electricity. We get warm water  on time. 
There is continuous supply of electricity because of the solar panels. Moreover, the presence of games, balloon and sports facilities which weren't here earlier makes the spot almost of international level," said Ashish, a tourist from Mumbai.
Kashmir valley including Gulmarg always receives heavy snowfall, which damages electric poles and and cables. This results in frequent powers crisis in the picturesque destination.
The solar power  panels have been installed on the roofs of huts and hotels. Tourism authorities claimed that nearly sixty percent work of installing the panels was over and the full project is  nearing its completion.