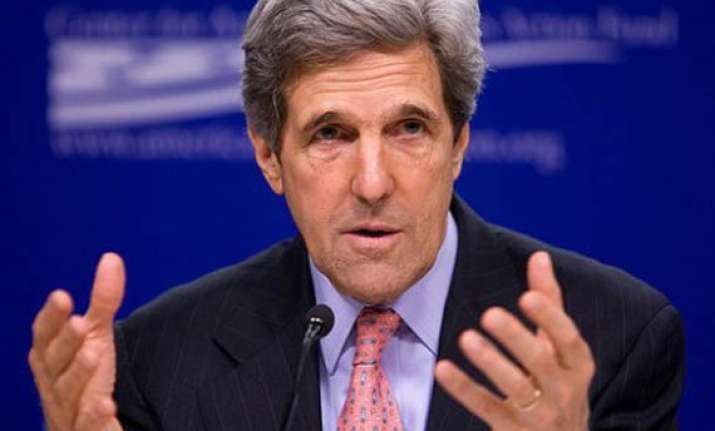 New Delhi: US Secretary of State John Kerry will arrive in New Delhi on July 30 on a three-day visit during which he will discuss with the Indian leaders a range of key bilateral, regional and global issues of mutual interest besides co-chairing the fifth India-US Strategic Dialogue. It will be his first visit to India after the BJP-led government came to power.
"External Affairs Minister Sushma Swaraj will host US Secretary of State John Kerry in New Delhi from July 30 to August 1. The External Affairs Minister and Secretary Kerry will co-chair the fifth India-US Strategic Dialogue on July 31", the External Affairs Ministry said.
John Kerry and Sushma Swaraj are expected to prepare the ground for a bilateral meeting between Prime Minister Narendra Modi and US President Barack Obama, who has invited the Indian leader for a meeting in Washington. Prime Minister Narendra Modi is expected to visit the US in September.
On the bilateral front, their focus will be on expanding cooperation in areas of security, trade and investment, science and technology, energy and environment. John Kerry who is expected to meet Indian leaders including the Prime Minister will also visit Bangalore.
The US Secretary of State will be accompanied by a high-level inter-agency delegation with representatives from the Departments of Commerce, Energy, Homeland Security, Department of State among others.
Secretary of Commerce Penny Sue Pritzker, Deputy Secretary of Department of Energy Daniel Poneman, Under Secretary of Department of Homeland Security Francis X Taylor and Special Envoy for Climate Change in Department of State Todd Stern will be part of the delegation.
India and the US had launched the Strategic Dialogue in July 2009, focusing on five pillars of mutual interest namely Strategic Cooperation, Energy and Climate Change, Education and Development, Economy and Trade, Science and Technology and Health and Innovation.
The first Strategic Dialogue was held in Washington in June 2010, followed by successive rounds in New Delhi in July 2011, Washington in June 2012 and New Delhi in June 2013.