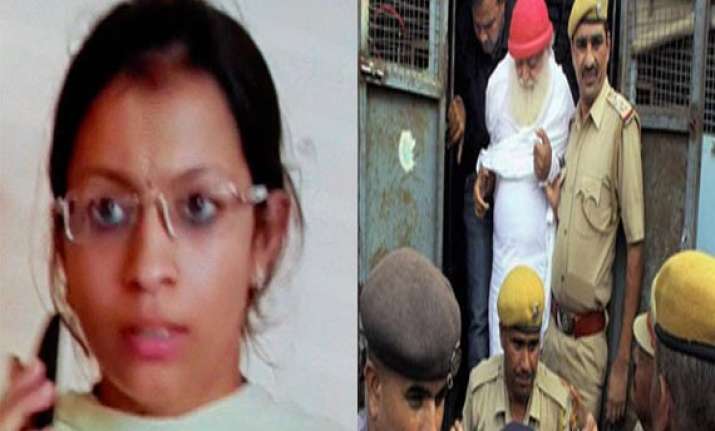 Jodhpur: Jodhpur police today searched Asaram's Panchkund ashram near Pushkar and also his ashram at Dungeria Khurd in search of the elusive woman Shilpi alias Sanchita Gupta, who has been underground since the self-styled godman's arrest.
Shilpi worked as the warden of Chhindwara gurukul (students' hostel), from where she had persuaded the sexual assault victim's parents to take the girl to Jodhpur to meet the baba.
Shilpi was last seen near the Chhindwara court on September 2 and since then she has gone underground.
Shilpi's real name is Sanchita Gupta and she is originally from Ahmedabad. She is among the four persons who form the core group around Asaram Bapu.
The 27-year-old hostel warden was also seen on August 29 at the funeral of Narayan Sai's father-in-law in Bhopal. She later went underground and was rumoured to be hiding somewhere in Indore, Raipur or Nagpur.
Jodhpur police investigators require Shilpi urgently for questioning as she was main motivator in the conspiracy to snare the sexual assault victim to meet the self-styled godman.
Meanwhile, inside Jodhpur jail, Asaram Bapu is giving daily discourses to his sevadars and other inmates saying he would soon go out on bail, as he has hired top lawyers to defend him. The lawyers are preparing file a fresh bail plea before the Rajasthan High Court.
The sevadars who had resorted to violence in order to be jailed and stay with Asaram, now appear to be losing confidence. They have filed bail applications in a local court.
Across the country, in the ashrams and prayer places of Asaram's devotees, 'havan' and 'poojans' are being held praying for early release of the godman.
The key witness to the sexual assault crime, sevadar Shiva met Asaram inside Jodhpur jail on Saturday evening with the 'permission' of jail authorities.  Sources said, Shiva told Asaram that he had no incriminating CDs or videos with him.
Jodhpur police investigators however say that Shiva had taken some objectionable clips on his cellphone.