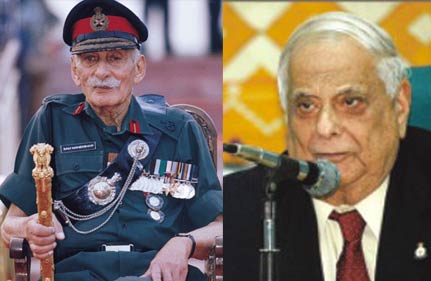 New Delhi, Apr 30: The late Field Marshal Sam Manekshaw, considered the architect of India's historic 1971 war victory giving birth to a new country Bangladesh, has been criticized by his former junior  Retired Major General J F R Jacob,  forrmer Punjab Governor, in his autobiography 'An Odyssey in War and Peace', which is going to hit the stands next week, reports Hindustan Times.
 
The retired major general writes that Manekshaw lacked strategic acumen, promoted sycophancy and angled for post-retirement prospects.
 
Major General J F R Jacob was the commander of Bengal area under the Army's Eastern Command, then led by Lt Gen Jagjit Singh Aurora, the man who took the surrender of Pakistani commander Lt Gen AAK Niyazi in Dacca on December 16, 1971 - a red-letter day in the history of Indian army.
 
Jacob is credited by Pakistan for planning and executing a textbook offensive that led to the unconditional surrender of 93,000 Pakistani troops, a feat unmatched since the Second World War.
 
In the autobiography, Jacob says that Manekshaw ordered an "unnecessary operation" in the Hilli sector on November 23, 1971 that left 67 Indian soldiers dead and another 70 wounded.
 
He also says that Manekshaw jeopardised India's war effort by revealing the army's success in cracking Pakistan's naval code. The army ability to take pre-emptive action was jeopardised, according to Jacob, when Manekshaw ordered the broadcast of an intercept despite being advised against it.

Jacob writes, "The Pakistan Navy immediately changed their code. Subsequently, we were unable to read any further naval wireless traffic."
 
Jacob had questioned Manekshaw's leadership in his previous book Surrender at Dacca: Birth of a Nation, but not in such detail.

Lt Gen Depinder Singh (retd), Manekshaw's military assistant from 1969-73, said Jacob had only followed Manekshaw's instructions.

"Jacob has a tremendous ego and believes he won the war. The win was the result of Manekshaw's meticulous planning, executed by then Eastern Army commander Lt Gen JS Aurora," Singh said.

According to Jacob, Manekshaw liked to have 'yes' men, recalling how top officials "were aghast to see Aurora take the tray from a waiter and serve drinks to DP Dhar (Indira's advisor for Bangladesh) and Manekshaw" at a gathering in Calcutta in September 1971.

He also says Manekshaw admitted he did not like Aurora but appointed him army commander because "I (Sam) would like to have him as a doormat".

Both Lt Gen (Retd) J S Aurora and the later Field Marshal are not alive to reply to Jacob's remarks.  Jagjit Singh Arora passed away in 2005 while Sam Manekshaw died in 2008.