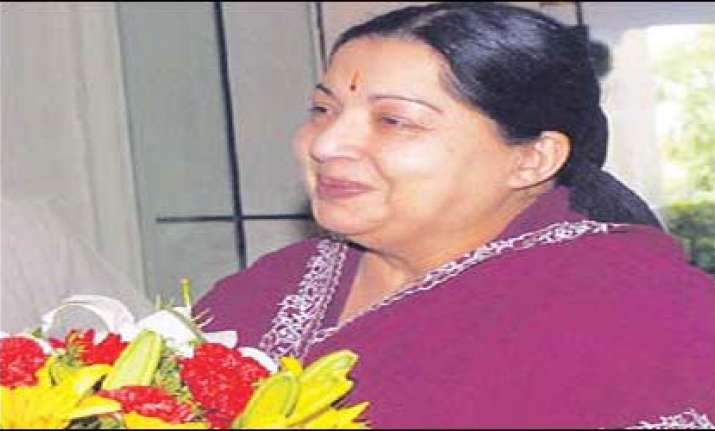 Chennai, Feb 24 : AIADMK chief Jayalalithaa turned 63 today as her party workers vowed to defeat the ruling DMK in the coming Assembly polls and organised various welfare programmes such as blood-donation and mass-feeding across Tamil Nadu.
Jayalalithaa, a yesteryear actress who was politically baptised by former Chief Minister and party founder M G Ramachandran, had given a call to AIADMK cadre to take a vow to defeat DMK instead of making her birthday a grand celebration.
Out of power since 2006 and performing below expected levels in the 2009 Lok Sabha polls, Jayalalithaa, fondly called 'Amma' (mother) by party workers, has invested a lot of prestige in the Assembly polls due in May, almost making it a do-or-die battle for AIADMK.
AIADMK stole a march over DMK in making early poll preparations but is dogged by uncertainty over seat-sharing talks with allies, CPI(M), CPI and MDMK even as actor-politician Vijayakant's DMDK is keeping her guessing,seeking a bigger share in seat allocation.
AIADMK workers cut cakes at different places, organised mass-feeding and blood donation camps, and distributed dhoties and sarees to the poor even as Jayalalithaa left for Mysore,her birth place, to visit the famous Chamundeeswari temple there.
The leader, extolled by party workers as 'Puratchi Thalaivi' (revolutionary leader), had said she found no reason to celebrate her birthday as the state was receding in terms of development due to "all-round failure" of the DMK government which was affecting the people.
She had told party workers that the time for celebrations would be when people gave their verdict in AIADMK's favour.AIADMK cadres usually organise grand celebrations,arrange mass marriages and feed the poor on her birthday. PTI