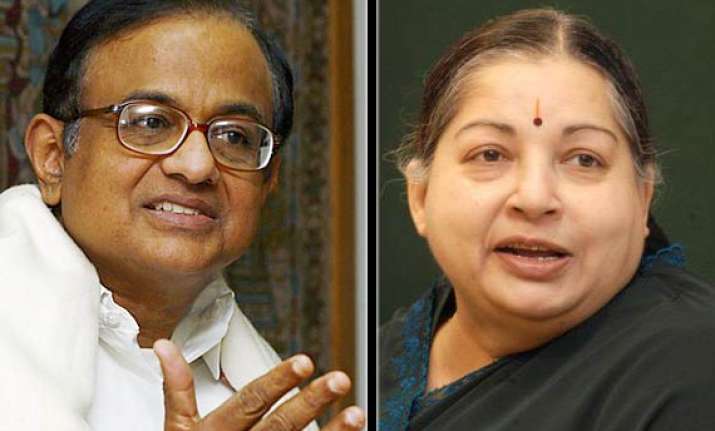 New Delhi, June 14: Reacting to Tamil Nadu Jayalalithaa's statement that he had won the Lok Sabha elections by 'fraudulent means', Home Minister P. Chidambaram on Tuesday said she has the habit of "starting on the wrong foot". "She has always had utter contempt for court proceedings and hence her statement today is not at all surprising," he said in a statement.

He said "she knows that her candidate Rajakannappan has filed an election petition in the Madras High Court and that is pending since September 2009. Her statement, is therefore in gross contempt of court."

The Home Minister said Rajakannappan had also contested the Assembly elections last month and lost from one of the segments falling under his parliamentary constituency Sivaganga.

"Perhaps, she would say that that election result was also fraudulent," he said.

Jayalalithaa was carping in her criticism of Chidambaram while she chose to be soft on Congress and the central government in response to various questions. J Jayalalithaa today attacked  Chidambaram and demanded his resignation for his "fraudulent victory" in the Lok Sabha election.

"Our party has always maintained that Mr Chidambaram's victory was through fraudulent means...his continuance in the Union Council of Minsters is untenable," she told a press conference here.

"Mr Chidambaram was never elected to Parliament in 2009. He has played a fraud on the nation. Our party candidate won the election," she said.

Jayalalithaa was asked a question whether her party has gone "soft" on the case filed by AIADMK candidate Rajakannapan against Chidambaram's victory in Sivaganga constituency in the 2009 elections.

The Chief Minister alleged that Chidambaram was announced the successful candidate because of a fraud committed by a data entry operator.

Meanwhile, Congress today dismissed as "uncontrolled" Jayalalithaa's statement seeking the resignation of Home Minister P Chidambaram.
"How can any party give its reaction on such an uncontrolled statement? The person concerned will respond", AICC General Secretary Janardan Dwivedi told reporters. PTI