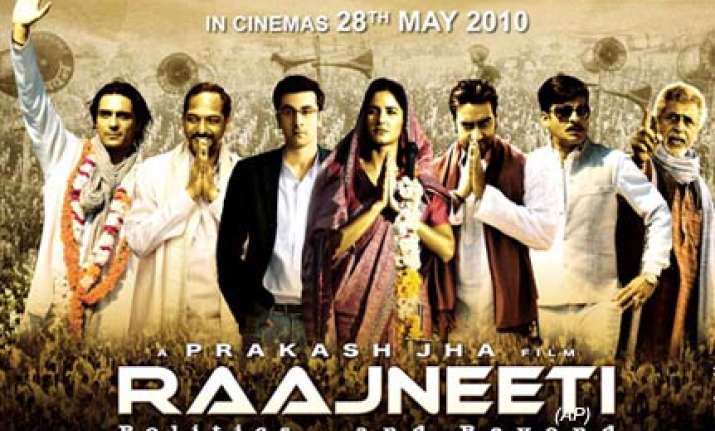 A local court on Thursday directed the police to lodge a First Information Report (FIR) against some Rajasthan BJP MLAs for allegedly organising the screening of a pirated version of Prakash Jha's political saga "Raajneeti".
Chief Judicial Magistrate Seema Juneja gave the direction on a complaint filed by one Yogendra Singh for violation of the copyright and other acts.  
Over 70 MLAs led by BJP general secretary and former chief minister Vasundhara Raje, who were holding close door meetings on the eve of Rajya Sabha polls at a hotel here, had allegedly taken some time out to watch the movie on Tuesday. In the complaint, Singh claimed that none of the BJP MLAs was staying at the hotel and its owners had not taken any permission for screening of the movie.
Besides the BJP MLAs, including its chief whip Rajender Singh Rathore, the petition also levelled charges against the hotel owner and others.
 "As it is the exceptional case of cognisable offence for violating the Indian Copy Right Act 1957, Information Technology Act, and Rajasthan Video Film Exhibition Act, 1991, any person can take up the legal procedure against those who allegedly violated by viewing movie released just two weeks ago," the petitioner claimed.  
Meanwhile, Rajasthan Chief Minister Ashok Gehlot said the law will take its own course in the case.  He was replying to a question on the court's direction after casting his ballot for the Rajya Sabha elections.
"I respect the court's order and the law should take its own course," he said.  He maintained that BJP has the practice of keeping its flock together on the eve of elections. "They have been watching movies, playing football and swimming at the hotel," he alleged.  He said Congress, on the other hand, does not believe in such practices and propaganda.
'Raajneeti', a multi starrer, is inspired by the epic Mahabharata and depicts a saga of a warring political family in Bhopal.  The multi-crore film, which was released on June 4, stars Ranbir Kapoor, Katrina Kaif, Naseeruddin Shah, Ajay Devgn, Arjun Rampal and Manoj Bajpai.
Infuriated by the alleged screening, the film's director Prakash Jha had yesterday threatened legal action.  "I am very angry.
It is shameful. How can lawmakers break the law like that? They should be the ones to put a stop to such illegal things and create examples but they are blatantly breaking the law," he had told PTI on phone.  "My lawyers are looking into it. We are looking into all aspects like who saw it and where was it screened. We will take appropriate legal action," Jha had said. PTI