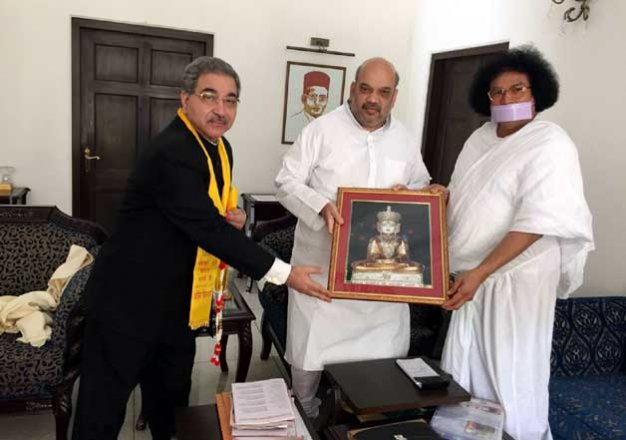 New Delhi: Expressing deep anguish over demolition of a Jain temple in Lahore, Jain acharya Dr Lokesh Muni has asked Indian government to intervene in the matter and get it reinstated.
A delegation of Jain monks led by Acharya Lokesh Muni met BJP President Amit Shah on Tuesday and discussed future course of action after Pakistan's Punjab government demolished the remains of the already damaged temple.
Acharya Lokesh said that if need be, he will lead a delegation consisting of representatives of all religions to Pakistan and raise the issue of protection to Jain temples and gurudwaras with PM Nawaz Sharif and President Mamnoon Hussain.
BJP President Amit Shah assured the delegation that he will ask Foreign Secretary S Jaishankar to speak to Pakistan High Commissioner and find a solution.
"At the time of independence, the two nations had decided that in case of any such issue related to religious shrines, they will consult each other. In this case, Pakistan did not consult government of India and the temple was demolished overnight," Amit Shah said.
Read Also: Violating LHC's order, ancient Jain temple demolished in Lahore
Acharya Lokesh pointed out that the demolition of the Jain temple is being opposed not only in India but Pakistan as well.
"Many social workers and human rights organisations of Pakistan are also protesting against the demolition. I would request both UNESCO and UNO to intervene in this matter," he added.