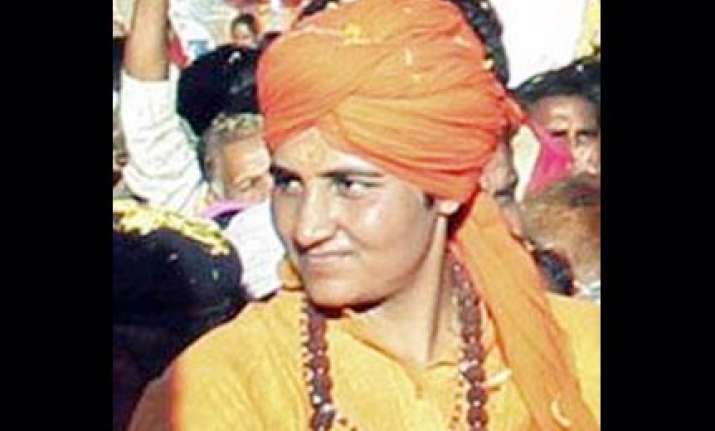 At least three guards posted at the Nashik Jail barracks housing Sadhvi Pragyasingh Thakur, accused of involvement in the 2008 Malegaon blast, have sought new postings, saying they are scared she will act on her alleged threat of using "black magic skills" to cast a spell on them, says an Indian Express report.
Fed up of her frequent tantrums, jail authorities said they planned to move her to Yerawada Jail in Pune.
"Several complaints have been made against Sadhvi. She has been a difficult inmate who refuses to eat at times or breaks into fights with other inmates," said Nashik Jail Superintendent Swati Sathe. "We have tried to keep her away from other inmates as much as possible. It is difficult to micro-manage her when we have a thousand other inmates."
Thakur allegedly began intimidating jail guards from the day she was transferred to Nashik Jail from the Byculla women's prison in Mumbai last September after a special court lifted the stringent Maharashtra Control of Organised Crime Act (MCOCA) that had been imposed on all 11 accused in the case.
"She has been threatening the guards that she would use black magic on them or curse them for their deeds. She has harassed quite a few of them like this," a jail source told The Indian Express. The source said that some guards give in to some of her demands for fear of upsetting her and inviting her wrath.
"She wanted to meet journalists when she was in hospital last week. When the constables declined, she started threatening them. One of them finally allowed a reporter to enter the prison ward and Sadhvi had a long conversation with the reporter," the sources said.
Asked about this, Sathe said she did not know how Thakur managed to get in touch with the journalist in hospital but but suspected that she may have once again threatened or taunted the guards on duty.
Thakur's lawyer Ganesh Sovani maintained his client was being ill-treated in Byculla. He said she was forced to complain to the court as she was not being fed on time and some times egg shells were allegedly mixed with her food."The harassment stopped only after she exposed the authorities in court. She is again being ill-treated. If she is troubling the officers, why have they not moved any application before the court as yet for her transfer," Sovani asked.