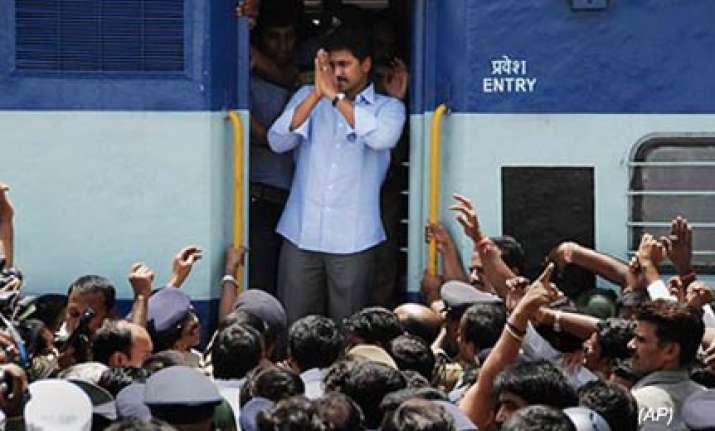 Making a partial climbdown, Congress MP Y S Jaganmohan Reddy, who had been defying the high command directive on his controversial 'Odarpu Yatra', tonight announced its postponement from tomorrow to July 8.
"It is my duty as the son of late Rajasekhara Reddy to fulfil the commitment I made to my brothers and sisters. I promised to share your grief. It has been eight months since my father died. It is delay," he said in a statement.
"However, I got a message from the high command yesterday to postpone the yatra indefinitely. I have full faith in our leader. I am confident that I will be able to resume the yatra by convincing her. Hence, as per the message from the high command, I am postponing the yatra for some days," Jaganmohan said. Jaganmohan was scheduled to undertake his yatra in Srikakulam district from tomorrow.
The Congress had last week asked the Kadapa MP not to go ahead with his yatra to console the families of those who either committed suicide or allegedly died of heart attack after hearing the news of the death of his father and former Andhra Pradesh chief Minister Y S Rajasekhara Reddy last year. 
"I will resume it (the yatra) on July eight, the birthday of Dr Rajasekhara Reddy. I believe that I will be able to get the approval and blessings of our party president by then," the Andhra Congress leader, who had yesterday indicated that he might go ahead with his yatra, said. He said his mother Vijayalakshmi has written a letter to Sonia Gandhi not to stop the yatra. She also sought an audience to explain the matter. 
Alleging that TRS has played "cruel politics" over his yatra to Warangal district in Telangana on May 28, Jagan said his tour of Srikakulam had no such problems. 
"TRS has made my yatra to Warangal controversial. But there is no problem with Srikakulam. It has been over eight months since my father died. How long should I wait. What meaning does 'Odarpu' (consoling) have after so many months," he asked.
Defying high command's directive, Jagan undertook the yatra to Warangal district which triggered violence protests from Telangana agitators. He had to abandon the yatra following the protests. 
After a meeting with Congress general secretary and Veerappa Moily, in-charge of AP affairs, Jagan had claimed that he has been given permission to go ahead with his yatra. However, the claim was dismissed by Moily who said Jagan should stop his yatra.
In the wake of the tough stance adopted by the high command, a large number of Congress MLAs, Ministers and other Congress leaders, who are known to be loyalists of late YSR, advised Jagan not to go against the high command. PTI