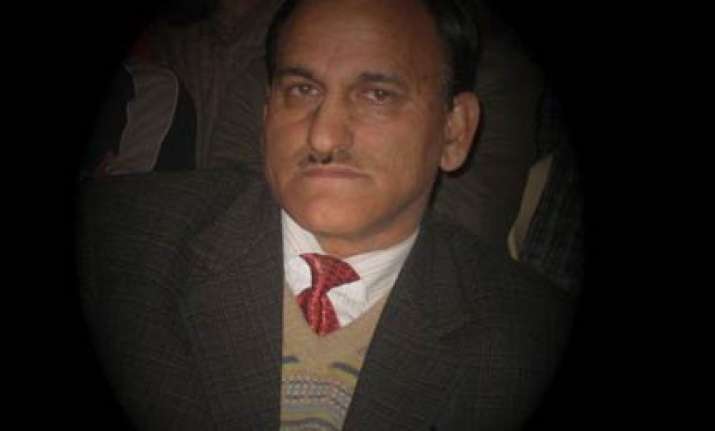 Srinagar: Jammu and Kashmir PWD Minister G M Saroori was sacked on Thursday in the wake of a row over alleged use of an impersonator for his daughter during a medical entrance examination.  
Saroori, a minister belonging to Congress, was asked to put in his papers after the controversy erupted but he chose to ignore the directive and left for Jeddah to perform 'umrah' sans any clearance from the External Affairs Ministry. The decision to sack Saroori was taken at a Cabinet meeting chaired by Chief Minister Omar Abdullah here.  
The minister, who has been maintaining that he was a victim of politics in the state, chose to ignore the directive of the party high command and did not submit his resignation before leaving for umrah.  
He flew out yesterday morning and his office in Jammu circulated a statement that he had not been asked by the party high command to resign on the issue of impersonation allegedly involving his daughter. Saroori had not taken the mandatory "political clearance" from the MEA as is necessary for any minister to travel abroad, official sources said.  
When Saroori arrived in the national capital from Srinagar, he was called up by Union Minister Prithviraj Chavan on three occasions, with the last call informing him that he should submit his resignation before leaving for umrah. "The party minister has been asked to resign," Chavan, who is also the AICC General Secretary in charge of Jammu and Kashmir, had said yesterday.  
It was alleged that two youths, including a girl, were appearing in the medical examination for the kin of two politicians -- Saroori and former minister Ram Pal of the National Conference, Congress' coalition partner in Jammu and Kashmir. Seven alleged impersonators, including a girl, were apprehended in this connection on August 21.  
The state government had already decided to hand over the probe in the case to the CBI. Vehemently denying any wrongdoing by his daughter, Saroori has dubbed it a "misinformation campaign" by vested interests to tarnish his image.  
He claimed his daughter Huma was pursuing her bachelor's degree in the Government Women's College in Jammu, a fact which was being verified by the police. PTI