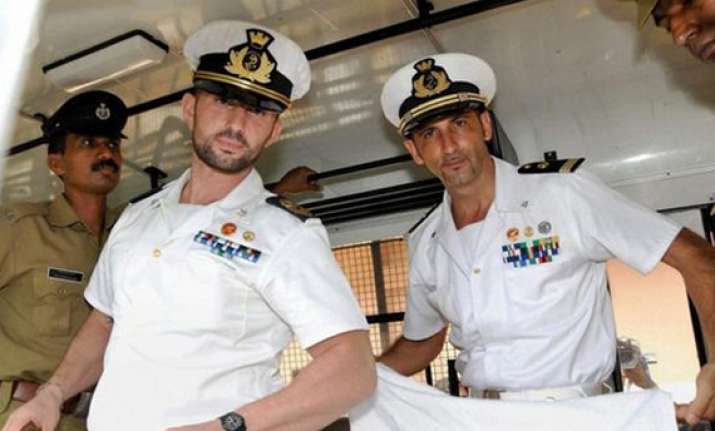 Kochi, Dec 16: Italy on Sunday voiced confidence that the case of its two marines, facing trial in a Kerala court in connection with the shooting to death of two Indian fishermen, will be solved in accordance with National laws and International justice.
"We respect and I do respect Supreme Court of India. We are confident that the case will be solved according to National laws, International justice," Italian Defence Minister, Giampaolo Di Paolo, who arrived here last night to meet the two Italian marines-- Massimiliano Latore and Salvatore Girone, said.
Italy had summoned the Indian Ambassador in Rome a couple of days ago to insist that the apex court issue a decision soon on its two marines.
The minister, who was flanked by the two marines dressed in suits, said, "I came here to meet the two Italian marines. They are in active duty. It is my responsbility to come here.  They are still in a mission. They are supporting a mission," the minister said.
Di Paolo, who arrived by a chartered aircraft from Herat, a province in Afghanistan, said, "I came here from Afghanistan where I met other (Italian) soldiers. In the same way, I came here to say hello (to the marines)."
Asked if he was confident that the marines would be able to visit Italy for Christmas, Di Paolo said, "Nobody more than India understands the value of celebrating Christmas. For us Christmas is, the festivity. So you understand, how much we want them to go back, to be with their families and parents. I am confident that Indian people will understand," he said.
The marines have moved a petition in the Kerala High Court seeking relaxation of their bail conditions to enable them to visit their families. The plea is to come up on Tuesday.
The Supreme Court had reserved its verdict on the Italian government's plea challenging the jurisdiction of Indian courts to try the marines.