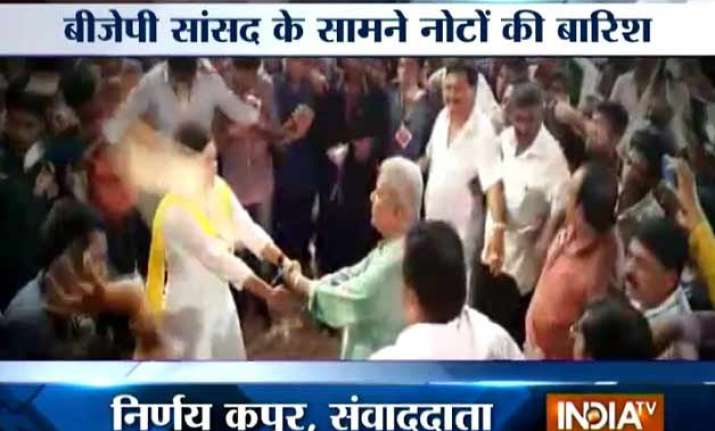 Verawal: Bank notes worth Rs 3 crore were splurged for continuous three hours at a religious function in Gir – Somnath. BJP MP from Jamnagar Poonam Madam, also present at the occasion, shook her legs  at the ceremony. Notes, of every denomination including Rs 50, Rs 100,  Rs 500 and Rs 1000 were splashed all over the place.
The religious function was organised by Verawal's Ahir Samaj on Thursday. It was supposed to be a seven day religious programme where around 1 lakh people gather for listening Bhagwat Katha. However, it turned out to be a show of pomp.
 
The BJP MP danced along with her enthusiastic group of supporters , who were also revelling at the occasion.
 
Madam's father was four-time independent MLA from Khambhalia during 1972-1990. Former Jamnagar Congress MP Virkam Madam is her distant uncle. The politician is married to a former Defense officer Parminder Mahajan.
However, this is not the first instance of vulgar show of money at a religious function. In  Junagadh notes were splurged  in presence of Gujarat BJP president R C Faldu, but the money was later donated to Goshala( Cowshed).
Although the organisers claim that the money goes to good causes but the question arises, when the dancers trample the notes carrying images of Mahtma Gandhi and Ashok pillar, with their feet, does it not show disprespect to these reputed figures and symbols.
Although there are no strict provisions for Banking regulation act 1949 and RBI Regulation Act but the apex bank has laid out certain guidelines for healthy use of bank notes.