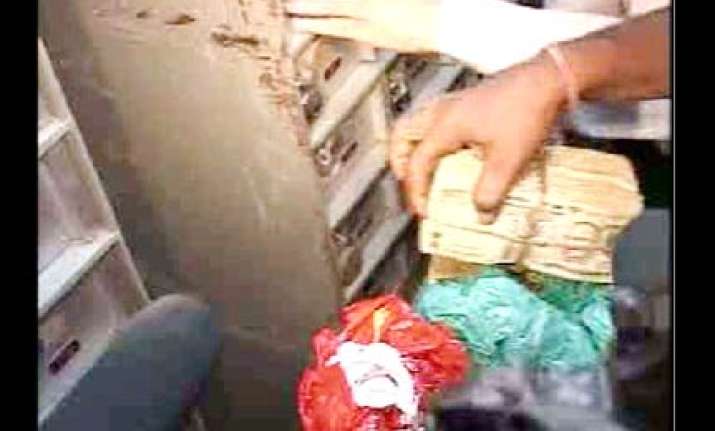 Rajasthan's Anti Corruption Bureau staff are aghast at the amount of money coming out from the sealed lockers of Surendra Kumar Sharma, a deputy manager of Rajasthan Co-operative Dairy Federation, who minted money in a million-rupee fodder scam.
Rs 2.5 crore cash was found on Saturday morning from four of his lockers in Jaipur. Rs 20 lakh cash was seized from his SBI locker on Saturday, while Rs 2.3 crore cash and  4 kg gold biscuits and ornaments were seized from other private lockers.  Another locker will be searched in Bikaner on Monday.
With this, the cash amount alone seized from Sharma's residence and lockers has gone up to Rs 5 crore, apart from  8.5 kg gold biscuits and ornaments.
On Friday, ACB officials seized Rs 48 lakhs from two bank lockers, while on Thursday, they had seized 700 gm gold biscuits and ornaments and more cash were seized from his locker in Bank of Rajasthan.
The ACB staff has seized documents relating to several crores of rupees worth investment, properties and deposits in bank accounts. Several cartons of imported Scotch whisky were also seized from his residence.
Assistant Superintendent of Police of the ACB, Bhawar Singh Nathavat said that the lockers were opened in the presence of the suspected corrupt official.
"We executed the search warrant and opened the lockers in the presence of the suspected official S K Sharma and other witnesses. The money is counted by the bank officials and they have counted 48 lakh rupees. The money that we have found here in this bank has been counted and converted into FDR (Fixed Deposit Receipt). We are also looking to other banks," said Nathavat.
Sharma was intercepted by the ACB on Thursday evening while returning home. The cops found Rs 100,000 in his possession, which he had taken as a bribe, after which they raided his house.
Sharma was the Deputy Manager in the production and quality control branch of the Dairy Federation's cattle feed plant. He has since been suspended.
Officials say Sharma made his money from a statewide fodder scam in which poor quality fodders were supplied to cattle rearers. The wide ramifications of this scam are yet to be revealed in full.