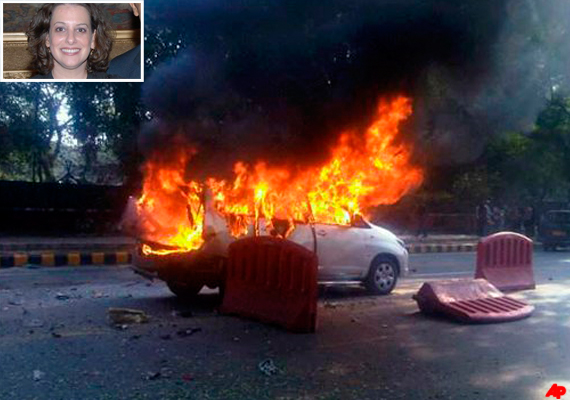 New Delhi, Feb 18: The Delhi Police probe into Monday's bomb blast has taken an entirely different track with the Israeli's diplomat's injured wife Tal Yehoshua Koren telling police that the bomber was wearing black and was riding a black motorbike, Times of India reported.
 
Tal Yehoshua Koren was taken to Israel in an air ambulance after he suffered shrapnel injuries to her spine.

            

 
The diplmat's wife reportedly told police that the sticky bomb exploded approximately 30 to 40 seconds after it was stuck on the Toyota Innova vehicle in which she was travelling.
 
Delhi Police investigators went to Primus Hospital in chanakyapuri on Friday to record the diplomat's wife's statement under Section 161 of Criminal Procedure Code.



 
Delhi Police had so far been working on the assumption that the bomber was wearing a brown jacket and riding a red coloured motorbike.
 
Police officials said, if the bomb took 30 to 40 seconds to explode then it could mean that there could have been a timer or a remote device as well.
 
"We have to take a relook at all our theories", the police official said.



 
This is what Tal Yehoshua Koren told the police, according to TOI:
 
"I saw a biker close to my car when I was going to the American embassy.  There was a push on the car from behind  and I saw the biker. I thought the biker had touched the car.  I even lowered the windowpanes to say something to him, but he escaped by then."
 
"As I remember, the biker was wearing a blck helmet and black clothes. I think the bike he was riding was also a black one."  She could not identify the make of the bike nor its registration number.



 
The diplomat's wife said; "The bomb exploded almost 30 to 40 seconds after there was a sudden push on the car."
 
Delhi Police is going to check all CCTV footage in New Delhi district now to check for black coloured bikes.



 
An Israeli spy agency Mossad team visited the blast spot on Friday alongwith local police to recreate the crime.