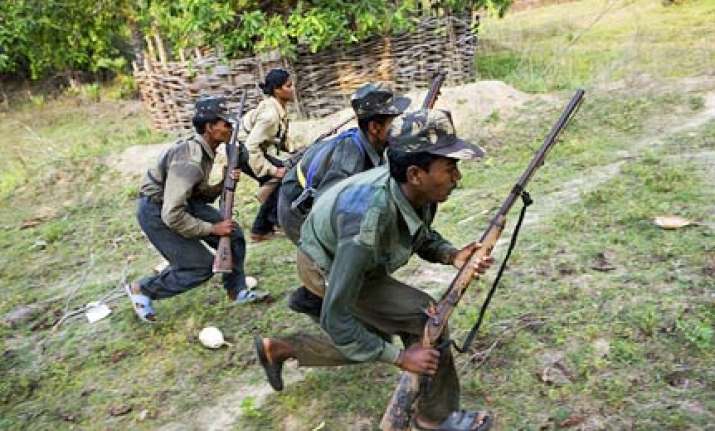 Bangalore: In a discovery that deepens the terror threat across India, Bangalore police have stumbled upon evidence that Pakistan's Inter-Services Intelligence (ISI) has been using mafia gangsters to connect to Naxalites, reports Times of India.  
Bangalore cops say they thwarted a dangerous mission by Chhota Shakeel's men - trying to link up with Naxalites in southern India to create a law-and-order problem in the region. In a joint operation with the Andhra Pradesh police, the bid was foiled and five people arrested.  
Police say that Chhota Shakeel acts on behalf of the Karachi-based don Dawood Ibrahim, who has close links with the ISI, the military group whose fingerprints have been found in most terrorist attacks in India.  
Altaf alias Rakesh was running Times Bar in Chachi Towers on Residency Road till 2006. When Kerala police cornered him for kidnapping and extortion, he fled to Dubai and there was no trace of him.  
But, he was in contact with Vinay Kumar of Ramanathpur, Arakalgud taluk, who worked as a bouncer in a bar. Vinay was wanted in a case registered in Banaswadi. Altaf established contact with Chhota Shakeel and agreed to find people to mediate between the ISI and Maoists in India. Vinay agreed to be the via media.  
Vinay found the right person to link up with Naxalites in Andhra Pradesh. Devaiah alias Sachin from Virajpet in Kodagu, had a security agency in R T Nagar. Coffee planter Devaiah was sympathizer of landless labourers. He had set up a small tribal welfare group near Mysore and frequented Chhattisgarh to establish contact with Naxal leaders.  
When Vinay offered funding for Naxal groups, Devaiah readily agreed to connect him with leaders in Andhra Pradesh.  
When Vinay told Altaf about this, Rs 25 lakh was sent through hawala channels. Altaf wanted Vinay to arrange a meeting of Devaiah and three Naxal leaders in Dubai with Shakeel to discuss the plan of action for India. Vinay organized passports and visas for Dubai for Naxal leaders Ram Kripal Pande, Shivakumar Kunta and Sridhar Pasham, police said.  
City policecommissionerShankar Bidari said arrangements had been made to issue a Red Corner Notice against Altaf. Cops are also looking for Vinay's associates handling his money.  
Police feel this is just the tip of the Shakeel iceberg. While one of his networks established links with Naxals, another was busy working on ways to fund radical elements in Dakshina Kannada district to create communal tension. Police also got wind of Shakeel's plot to eliminate a rival gangster in Nepal.  
However, these links were cut by the probe into the money trail in Dakshina Kannada. City police came across Chhota Shakeel's plans during routine surveillance. The Intelligence Bureau too was keeping a close tab on these activities.