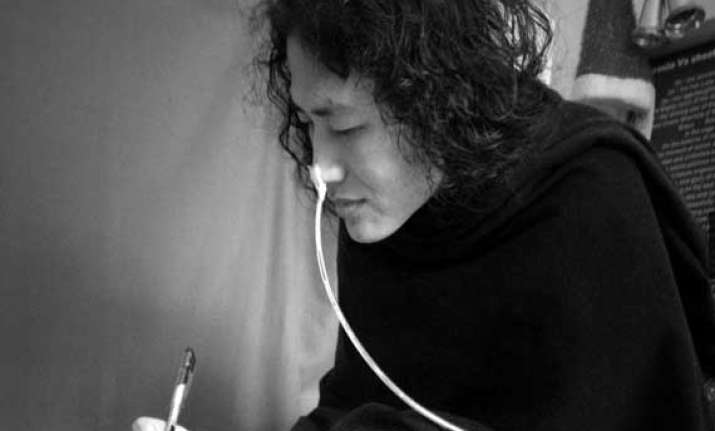 New Delhi: Irom Sharmila or "the Iron Lady of Manipur" does not require any introduction. Irom Chanu Sharmila is a civil rights activist, political activist, and poet.

Irom has been know to the world as "the world's longest hunger striker" as she began a hunger strike on 2 November, 2000, which is still ongoing. She has refused food and water for more than 500 weeks.




Her primary demand to the Indian government is the complete repeal of the AFSPA which has been blamed for violence in Manipur and other parts of northeast India.

She began her fasting at the age of 28. On International Women's Day, 2014 she was voted the top woman icon of India by MSN Poll.

The incident, known as the "Malom Massacre", was the reason for her ongoing fasting. On 2 November 2000, in Malom, a town in the Imphal Valley of Manipur, 10 civilians were shot and killed while waiting at a bus stop. The victims included Leisangbam Ibetombi, a 62-year old woman, and 18-year old Sinam Chandramani, a 1988 National Child Bravery Award winner.




The Malom Massacre was allegedly committed by the Assam Rifles, one of the Indian Paramilitary forces operating in the state.

The AFSPA, described by critics as a "draconian law", also allows the army and the paramilitary forces operating in areas declared as "disturbed" by the home ministry to take whatever action they deem fit against terrorists.

The AFSPA provides unlimited powers to the security forces to shoot at sight, arrest people without a warrant or carry out searches without hindrance.

It also insulates the security forces from legal processes for any action undertaken under the act.




Sharmila, has been released and arrested again after every 364 days, is force-fed thrice a day. She was arrested by the police and charged with an "attempt to commit suicide", which is unlawful under the Indian Penal Code (IPC), and was later transferred to judicial custody. Her health deteriorated rapidly, and nasogastric intubation was forced on her in order to keep her alive while under arrest.

Since the maximum sentence for attempted suicide is one year and she had been held for more than six years she was told the case will be settled if she pled guilty. However, she maintained that she had not attempted suicide, but was protesting in the "most non-violent way, like Mahatma Gandhi."