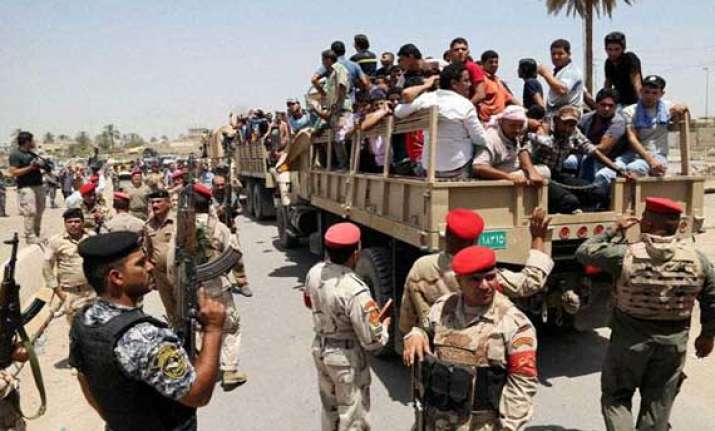 New Delhi: The fate of 40 Indian construction workers who have been abducted by suspected Islamic militants in Iraq remained unknown with the government unable to establish any contact with the captors belonging to brutal Sunni militia Islamic State of Iraq and Syria (ISIS).
The workers, most of whom may be from Punjab and other parts of north India, were workers of a construction company in Mosul town of Iraq, External Affairs Ministry spokesman Syed Akbaruddin told reporters.
He said the Indian government had no clue about the kidnappers or any concrete information about those abducted and whatever information has been gathered is through International Red Crescent and various other humanitarian organisations.
"Yes, 40 Indians, who were working with the Tariq Nur Alhuda company, have been kidnapped," he said.
He said government has not received "any call of any nature from anyone indicating about ransom or about taking of Indians in custody in Iraq."
Mosul is located about 400 kms northwest of capital Baghdad.
India is in touch with various humanitarian agencies, the UN Assistance Mission in Iraq (UNAMI) and Iraqi government to gather more information about the kidnapping, he added.
"These are difficuilt situations. We are working with the company. Also we are trying to work with International Red Crescent which has confirmed to us (about the kidnapping).
But they have also indicated that at this stage they do not know the location of these 40 Indian workers who are kidnapped," the spokesperson said.
Iraq is witnessing serious strife with militants, backed by Al-Qaida, capturing various cities and marching towards Baghdad.
Asked when the Indians were kidnapped, Akbaruddin only said government was trying to gather more information. At the same time, he insisted that every possible effort was being made to deal with the situation.
The MEA spokesman said the development has triggered a "very difficult situation" for India which is working with several partners in Iraq as well as elsewhere "to try and see what would be the best ways to take our efforts further".
He said the International Red Crescent did not know the location of the Indians.
"This is a situation where information is trickling in from various sources. It is the information that we are piecing together here based on inputs received," he said.
The spokesperson said at this stage government was trying to get as much information as possible and was trying to establish contacts in Mosul.
"We are trying to work with everybody on the ground who can assist us in these difficult circumstances," he said.
Asked whether government was taking help from the US, he refused to get into operational details, saying in an evolving situation the government was not going share such information.
On 46 nurses, who are stranded in Tikrit, he said International Red Crescent had got in touch with them following a request from India. He said several nurses prefered to stay back.
"We will leave no stone unturned to assist them," he said.