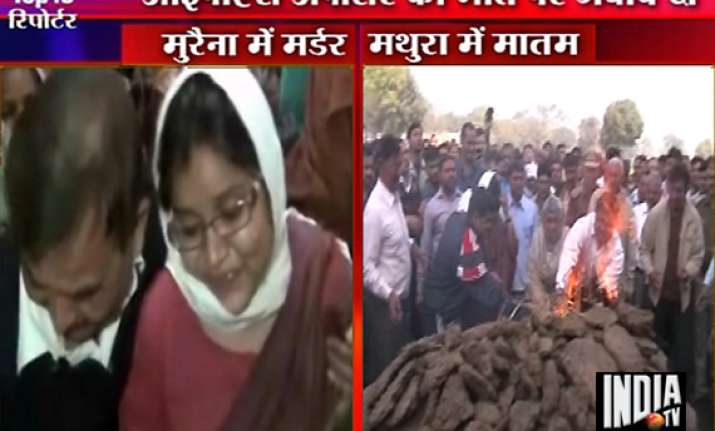 Mathura, March 9: A tearful Keshavdeo, father of the murdered IPS officer Narendra Kumar today revealed how his son and daughter-in-law were constantly harassed by the Madhya Pradesh government for his sincerity and honesty. 

He expressed apprehension about the safety of his IAS daughter-in-law Madhu Rani.

Keshavdeo told mediapersons that polticians had a hand behind his son's murder and the state police appeared to be non-cooperative. He indirectly hinted at the name of a local BJP MLA and said, chief minister Shivraj Singh Chouhan "knew all this".

Says Keshavdeo: "Narendra had told me a day before his death that he was working against the mining mafia despite severe pressure from above. A BJP MLA had also pressurised my daughter-in-law to do a wrong act, but she was transferred after she refused."

Asked to name the BJP MLA, Keshavdeo said, the chief minister knew all this, and if he revealed the name, his daughter-in-law's life could be in danger.




Local political circles say, IAS officer Madhu Rani Teotia had an altercation with Narsinghgarh BJP MLA Mohan Sharma a few days ago. Madhu Rani had the charge of Rajgarh collectorate. This altercation took place at a review meeting, after which the aged MLA walked out of the meeting in a huff.

Later, Madhu complained to the chief minister, but she was shunted out. The MLA however denies he had an hand in the transfer of Madhu Rani.

Madhya Pradesh chief minister Shivraj Singh Chouhan has ordered a judicial probe into Narendra Kumar's murder.

The last funeral rites of Narendra Kumar were performed in his village Lalpur near Mathura today. His pregnant wife Madhu Rani, in tears, lit the funeral pyre. Narendra's body was first taken to his in-laws' house in Aligarh. Madhu Rani, who was on maternity leave in Delhi, rushed to Aligarh on hearing news of her husband's murder.

Narendra's father Keshavdeo has said, his son has "been punished for his honesty in trying to stop illegal mining. Had the local police helped, his son would have been alive."

Keshavdeo has demanded a CBI probe into his IPS son's murder.

Meanwhile, DIG Chambal Range Dev Prakash Gupta said, police is trying to find out from where the stones were being transported on the tractor. Manoj Gujjar, the killer driver is a farmer in a village near Bamore.

The tractor was coming from a road adjoining the Bamore railway station, and Narendra Kumar at the head of a four-member police force went and stopped the tractor.

As the tractor driver tried to flee, Narendra radioed Bamore police station to block the road. Seeing this, the tractor driver suddenly took a U-turn and took a dirt track. Narendra Kumar physically stood in front and the killer driver ran the tractor's wheels over the IPS officer.

Leader of Opposition in MP assembly Ajay Singh today alleged that the mining mafia in MP under the chief minister's patronage was running a parallel government.