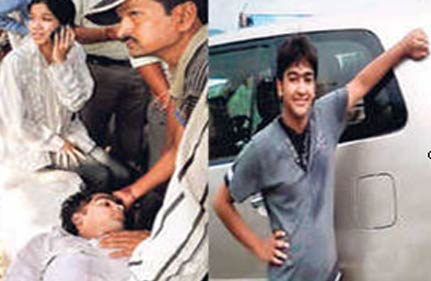 Medical college student Shashwat Jain was going on a scooty with a girl Kajol on a busy Indore road  on Wednesday, when tragedy struck.
A mini bus being driven rashly bumped into the scooty at around 1.45 pm and sped away. A crowd of onlookers gathered on the spot near Phalbagh  as the young man lay on the road gasping for breath. Kajol was unable to stand as she too was injured. Kajol was on her cellphone, while Shashwat with his eyes open was having trouble breathing.  
A Dainik  Bhaskar photographer who was passing through tried to stop passing vehicles to take the young man to a hospital, but none of the drivers obliged. For nearly 40 minutes, the photographer appealed to drivers of passing vehicles, but none stopped to help the young man. A policeman who was standing nearby was merely a mute spectator.  
Calls to 108 Ambulance service were of no avail. Ultimately, a woman driving a car allowed Shashwat to be taken to the hospital. He was first taken to Choithram hospital and then to Gurjar hospital, but by that time he had lost his life.  
Shashwat's father Virendra Jain works as a manager in a Maharashtra Bank branch. The family lives in Jain Colony Extn. Shashwat was a student of R D Gardi Medical college, Ujjain. Kajol is presently in a private hospital. Shashwat had come home during the holidays.