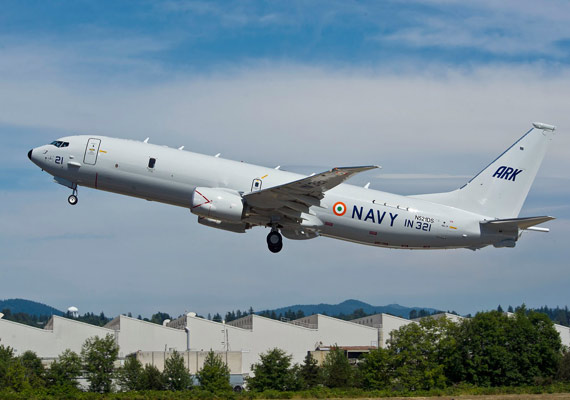 Chennai, May 16 : The Indian Navy on Wednesday inducted a US based Boeing aircraft, equipped with sophisticated sensor technology for anti-submarine operations, adding to its maritime strength in Chennai.
The P-8I aircraft is the Indian naval variant of the P-8A Poseidon that Boeing had developed for the US navy. 
Chief of Staff Eastern Naval Command, Rear Admiral Bimal Kumar Verma said that the aircraft has electronic intelligence sensors and would give the Navy an edge in tackling with maritime dangers.  
"The aircraft is equipped with foreign and indigenous sensors for maritime, anti-submarine operations and electronic intelligence missions. The aircraft is fully integrated with state of art sensors and highly potent anti-surface and anti-submarine weapons," said Verma. 
Procured under a contract with US in 2009, the aircrafts would add to the Indian Navy's strength with efforts being made to procure additional four aircrafts, he added.  
The aircraft would provide an impetus to the long range maritime snooping and anti-submarine warfare capabilities. 
Verma added that the Navy is committed to guard the country and procuring the aircraft is a crucial step towards that. 
"The Navy is constantly evaluating the challenges, threats etc. based on that we are generating capabilities. These are extremely expensive aircrafts and once they are being inducted, it surely shows the commitment of the government and the Navy to rise to the challenges that face us," said he. 
The Indian Navy aims to procure more P-8I aircrafts, that would reach the Arakkonam Naval Air Station in August and November, 2013