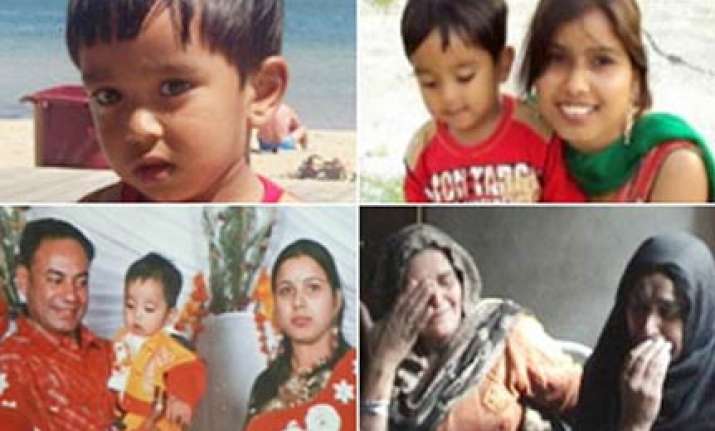 A 23-year-old Indian man was today arrested and charged over the death of an Indian toddler, whose dumped body was found three days ago in a Melbourne suburb.  
Sources told PTI that the wife of Dhillon Gursewak, who has been arrested, is likely to be charged for helping her husband in disposing off the toddler's body. 
Gursewak, who lived in the same house as the three-old boy Gurshan Singh Channa and his parents from Punjab, has been charged with manslaughter due to criminal negligence and appeared in an out-of-sessions hearing at St Kilda Road police complex, local media reports said. 
Police also said Gursewak, a part-time taxi driver, was not a relative of the toddler though they lived in the same house.  "The court heard Dhillon allegedly put the unconscious Channa in the boot of a car and drove around for three hours. It is alleged he then dumped him on the side of a road without checking if he was alive," an Australian Broadcasting Corporation (ABC) report said.  
Dhillon was refused bail and will reappear in the Melbourne Magistrate's Court on Tuesday.  Channa's body was found by a council worker on Thursday night, six hours after he disappeared from a rented property shared by his parents with friends and family here. A total of 12 people lived in the house.  Channa was in Australia on a holiday along with his parents. 
An initial autopsy on the child was inconclusive.  A family friend, who was with the couple, said police were very close to completing their investigation. "Police are very close to the person... who has done the crime."  'The Age' earlier said it was believed investigation was  focussing on the 12 adults who had access to the house in David 
Street, Lalor, from where Gurshan disappeared.  Detectives released details of a car that was seen in the area where the boy's body was discovered.  
They were looking for information or any sightings of a green VR or VT Commodore that was spotted in the area around St Johns and Wildwood roads on Thursday afternoon.  The family is waiting for police to release the boy's body before deciding when to head back to India. 
Police probing the death had earlier said they are searching for a car seen near the place where the toddler's body was found three days ago.  A green VR or VT Holden Commodore seen in the area where Gurshan Singh Channa's body was found under mysterious circumstances on Thursday has emerged as a key focus of the probe. 
The boy's death had threatened to cast a shadow over Australia-India relations following a string of racial attacks against Indian students. 
Australian Premier Kevin Rudd had on Friday termed the incident as "horrible" and pledged to get to the bottom of it.  "This is a really horrible story. I've seen the reports this morning, I heard about it late last night," Rudd had said.
The 23-year-old Indian man, charged over the death of a three-year-old boy, kept him unconscious in the boot of his car and drove around for at least three hours before dumping the toddler in a field north of Melbourne, police said on Sunday . 
Dhillon Gursewak, who is one of the house mates of Gurshan Singh Channa's parents, "placed the child in the boot of his car unconscious but still alive", Ron Iddles, Senior Sergeant of the homicide squad, was quoted as saying by the Australian Associated Press (AAP). 
"He then drove up to at least three hours with the child in the boot of the car, eventually stopping at Oaklands Junction, where he placed the child from the boot into the grass and did not check to see if the child was alive, then returned to 28, David Street, Lalor," Iddles said. 
Gursewak was arrested today from his friend's house in Melbourne's north.  Iddles, however, did not say how the three-year-old boy became unconscious.  Gursewak appeared before the hearing dressed in a white polo shirt, black tracksuit pants and brown thongs and was calm throughout the hearing. 
He refereed to the dead boy as "the kid... the kid that died" when asked who lived with him at the David Street address. 
Gursewak, a part-time taxi driver who just bought a small truck and was due to start full-time work with a courier company on Wednesday, lived in Lalor with his wife. He has a daughter, who is living in India. 
Gursewak applied for bail, offering to leave his passport and driver's licence, saying that he could stay at the Mill Park house where he was arrested.  Iddles said police had spoken with the Gursewak's friend and were told that "because of the events that transpired today he is no longer welcome there".  
Gursewak then gave the phone number of another friend, a man with whom he plays cricket and who lives in nearby Epping.  He said his friend would be happy to take him in as long as the media was kept away from the man's house. 
Squad Detective Inspector Steve Clark tried the number, but found it to be out of service.  First bail justice Ben Czerniewicz then remanded Dhillon in custody amid concerns that he posed an unacceptable flight risk and could also tamper with witnesses in the case.  Dhillon is due to appear in the Melbourne Magistrates Court on Tuesday. 
Iddles said police opposed Gursewak's bail because he had few ties to Australia and was under investigation by immigration officials over allegations that his passport may be forged. PTI