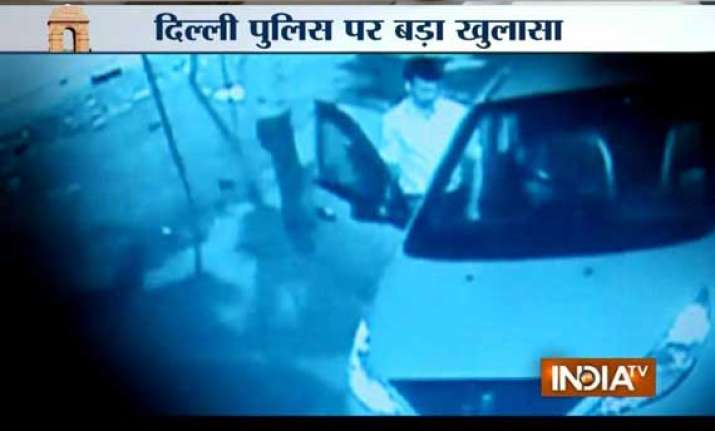 New Delhi: A Delhi Police sub-inspector was suspended while three other policemen, including an inspector, were removed from active duty and sent to police lines on Monday after a sting operation by India TV showed them helping auto-thieves in committing their crime.
Action against the four Delhi Police officials, deputed with crime branch, came Sunday evening on the order of Police Commissioner B.S.Bassi.
Bassi also ordered a vigilance inquiry into the whole issue which came into the forefront after India TV sting operation aired on Sunday evening.
Sub-Inspector Praveen Duggal was suspended while Inspector Bhagwati Prashad, Sub-Inspector Anuj Notial and Assistant Sub-Inspector Pavitran were sent to police lines.
The sting showed that the policemen helped the auto-thieves in committing their crime for a share of the loot.
Meanwhile, according to Delhi police data, recorded between January 1 and June 20 this year, has revealed that 13,976 vehicles were stolen in the capital in this period.
On an average, three vehicles are stolen in different parts of Delhi every hour.
East Delhi, home to areas like Shakarpur, Mayur Vihar and Anand Vihar, topped the chart with 2,110 cases of theft of cars, bikes and other motor vehicles.
East Delhi is followed by Northeast Delhi with 1,913 cases, Southeast with 1,667 cases and South Delhi with 1,290 cases.
The New Delhi district, with VIP areas like Parliament Street, Tughlak Road, Raisina Road and Connaught Place, recorded the lowest number of vehicle theft cases at 133.
Other areas where vehicle theft cases were reported are Central district (699 cases), North district (657 cases) and Outer district (1,477 cases) in the span of 201 days.
The number of cases of mobile handsets stolen/missing stands at two in South Delhi, 284 in New Delhi and 2,091 in Southwest Delhi.