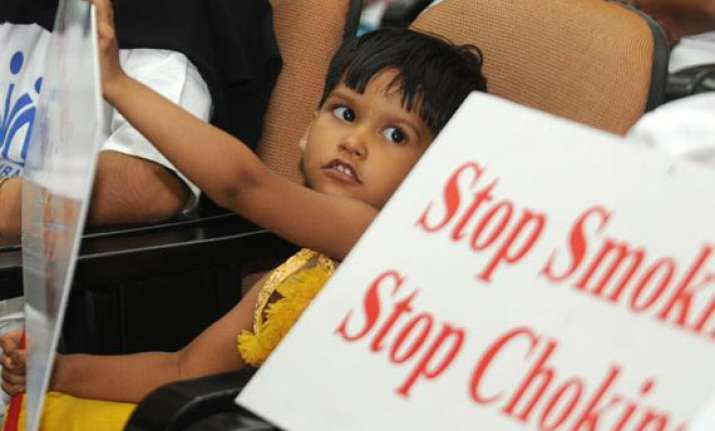 New Delhi, Nov 15: India has been ranked 123 among 193 countries in an international biennial report on pictorial health warning campaign against use of tobacco products - slipping 23 places behind its 100th rank in 2010.
The 'Cigarette Package Health Warnings: International Status Report' was released at the World Health Organisation (WHO)'s Framework Convention on Tobacco Control (FCTC) conference in Seoul, South Korea, said an official statement issued by Voluntary Health Association of India (VHAI).
"India was at the forefront in demanding effective and visible picture-based health warnings on tobacco packs at the negotiations of FCTC in 2003. It is regretful that India occupies the 123rd position among countries which have introduced health warnings," said Bhavna Mukhopadhyay, executive director, VHAI.
In 2004, India signed and ratified FCTC that required it to carry health warnings on tobacco products' packets describing the harmful effects of tobacco use on health—a proven strategy to deter people from smoking or chewing tobacco.
The warning "should be 50 percent or more of the principal display areas, but shall be no less than 30 percent of the display areas", according to FCTC.
Although India introduced pictorial warnings on packets of tobacco products in 2008, the new report shows the country lags far behind many countries in giving optimum space to health warnings on tobacco products' packs.
"India's tobacco pack warning covers only 40 percent of the front panel, while there is none on the rear side. This pushed India to the 123rd rank, compared to Pakistan's 65th and Bangladesh's 97th rank in the report," the VHAI statement added.
Australia, which has been ranked first in the report, gives 82.5 percent space to pictorial warning on tobacco product packs, while Uruguay and Sri Lanka which jointly hold the second rank dedicate 80 percent space to health warnings on the packs.
A survey by the Global Adult Tobacco Survey says India has nearly 274.9 million tobacco users, the third-largest in the world. Tobacco kills nearly one million people
every year due to related diseases such as cancer, heart and lung illness.
The international status report on pictorial health warnings was first released in 2008.