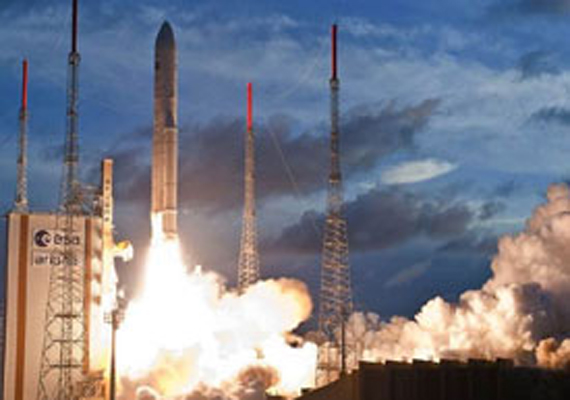 Bangalore, July 29 : India's advanced weather satellite Insat-3D is inching towards its final orbit slot at 36,000 km above earth from the geosynchronous transfer orbit, where it was placed by a European Ariane-5 rocket early July 26.
"The satellite is in an intermediate orbit, which is closer to its final orbital home in the geostationary plane, after its liquid apogee motor was fired twice Saturday and Sunday from our Master Control Facility (MCF) at Hassan," the state-run Indian space agency said in a statement Sunday.
Hassan is about 180 km from Bangalore in southwest Karnataka.
With complex manoeuvres, the MCF has gently pushed the satellite into an elliptical orbit at 35,795 km away from earth (apogee) and 31,800 km closer to earth (perigee), tilting to the equatorial plane at 0.67 degrees east.
The two-tonne spacecraft would be taken to the geostationary altitude of 36,000 km Monday by raising the orbit further to park it in the intended final orbit.
The European Space Agency Arianespace launched the meteorological satellite from Kourou in French Guiana off the Pacific coast in the wee hours of Friday.
As the latest weather forecasting and monitoring satellite, Insat-3D has four instruments onboard -- Imager, Sounder, Data Relay Transponder and Satellite Aided Search and Rescue.
The six-channel imager takes weather pictures of the earth, with improved features compared to the instrument in earlier metsats such as Kalpana-1 and Insat-3A, which have been providing weather services over the past decade.
"The 19-channel sounder payload adds a new dimension to monitor weather through its atmospheric sounding system, and provides vertical profiles of temperature, humidity and integrated ozone," the statement noted.
Data relay transponder receives meteorological, hydrological, oceanographic parameters sent by the automatic data collection platforms located at remote uninhabited places and relays them to a processing centre for generating accurate weather forecasts.
The search and rescue instrument picks up and relays alert signals originating from the distress beacons of maritime, aviation and land-based users and relays them to the mission control centre to facilitate speedy search and rescue operations.
The state-run space agency will process the satellite's data and the derivation of meteorological parameters with the Indian meteorological department in New Delhi.
An indigenously designed and developed meteorological data processing system has been commissioned at IMD, with a mirror site at the space agency's space applications centre at Bhopal in Madhya Pradesh and Ahmedabad in Gujarat.