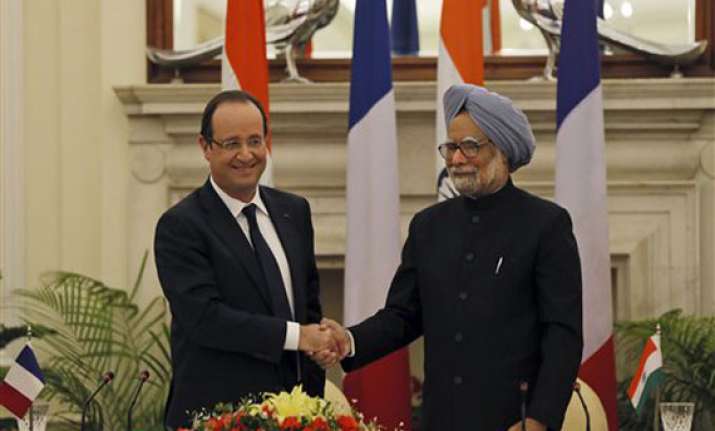 New Delhi, Feb 14: India and France today reiterated their commitment to the early implementation of the Jaitapur nuclear power project and speedy conclusion of the over $10-billion deal for 126 Rafale fighter jets as Prime Minister Manmohan Singh and French President Francois Hollande inked four agreements here.
Hollande, who arrived here early Thursday at the head of a high-level delegation which includes six ministers and a 50-member trade delegation, said France and India, which became strategic partners in 1998, are taking their relationship to "yet another stage".
Addressing a joint press conference with Manmohan Singh after delegation-level talks, Hollande said while France and India do not share the same kind of people or economy, they both "share the same values and principles".
He also said India was the world's largest democracy not just by its people but by its diversity. "Both care for independence, and autonomy."
On defence ties, Hollande said France and India have been cooperating for many years. "India trusts France for its equipment and France trusts India for its use... India is a land of peace."
On negotiations for the contract for 126 Rafale medium multi-role combat aircraft (MMRCA) - manufactured by Dassault Aviation - for the Indian Air Force, Hollande said the details were being discussed "and we do hope we can reach an early conclusion".
He said their defence cooperation was also about submarines, missiles and lots of equipment. "Our relations are based on trust."
Both countries were strategic partners also for energy. "France and India want to build on their civil nuclear energy cooperation," he said, adding that both countries also want to take forward their ties in space, education and culture.
On boosting economic relations, Hollande said France wants to have "even more trade and in more fields" with India.
In the fields of transport, railways, trams, sanitation and water, "France has to prove that it is of service to the Indian economy", he said.
On terrorism, he said both countries face a lot of challenges. Referring to the Mumbai attacks, he said "India was hit by a barbaric attack".
On Mali, where France sent its troops to push out the Al Qaeda militants, Hollande welcomed India's pledge of $1 million to the United Nations-backed Mission in the north African country.
Manmohan Singh said India regards France as "one of its most valued strategic partners" and their relationship is "defined by the breadth and diversity of our cooperations, as well as by the intensity of our dialogue". He said both exchanged views of bilateral, regional and multilateral issues of common interest.
On Jaitapur, he said: "We reviewed progress... and reiterated our commitment to its early implementation as soon as the commercial and technical negotiations, which have made good progress, are completed."
On defence cooperation, Manmohan Singh said both sides "expressed satisfaction with the progress in our defence cooperation, which is poised to reach a qualitatively new level".
"Discussions on the MMRCA contract are progressing well."
Both sides also concluded negotiations on the short-range surface-to-air missile, "which, once approved by the government, will be co-developed and co-produced in India".
"There is a welcome shift from defence trade to co-development and co-production of advanced defence items in India, which will help expand our domestic production base and strengthen the India-France strategic partnership," Manmohan Singh said.
France and India inked agreements in the railway sector, a cultural exchange programme, a letter of intent on intensification of cooperation in the fields of education, higher education and research and a statement of intent for long-term cooperation in space.