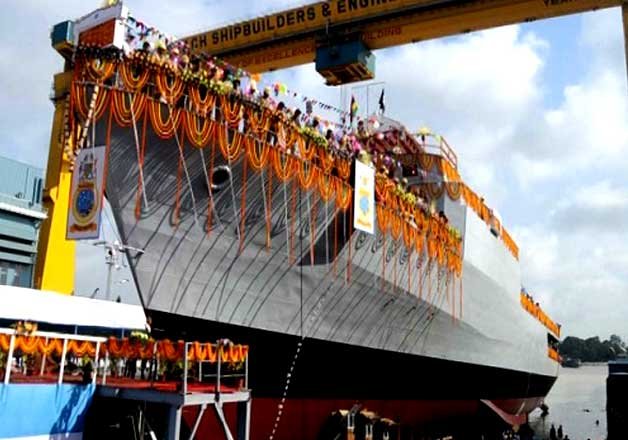 New Delhi:  India exported its first warship, the Coast Guard Ship Barracuda to Mauritius on Saturday. CGS Barracuda is the first ever naval ship to be built by India for a foreign nation, under the 'make in India banner has reached Kochi Coast for its last leg of training in Aviation.
Built by defence PSU Garden Reach Shipbuilders and Engineers Limited (GRSE) in Kolkata, the $58.5 million 'CGS Barracuda' measures 74.10 m in length.
Presently the ship CGS Barracuda is being commanded by Commander Rajneesh Kumar Dalal, an officer of the Indian Navy on Deputation to the Government of Mauritius, to assist the Mauritius National Coast Guard in operating this type of multi role ship.
The ship was designed in India as per requirements from the Government of Mauritius. It was formally handed over to the Mauritian government in December.
It is designed to safeguard the safety and security of the Exclusive Economic Zone (EEZ) of Mauritius. It is capable of moving at a maximum speed of 22 knots with an approximate displacement of 1350 tonnes. The ship is capable of carrying 50 tones of dry relief and 20 tonnes of fresh/frozen material in addition to large amount of fresh water and fuel that can be delivered to any island.
GRSE's Chairman and Managing Director Rear Admiral A.K. Verma said they were getting enquires for building similar ships for other friendly nations.
They have so far made 92 warships for the Indian Navy and Coast Guard. The Goa shipyard has also got orders from Sri Lanka for making offshore patrol vessels.