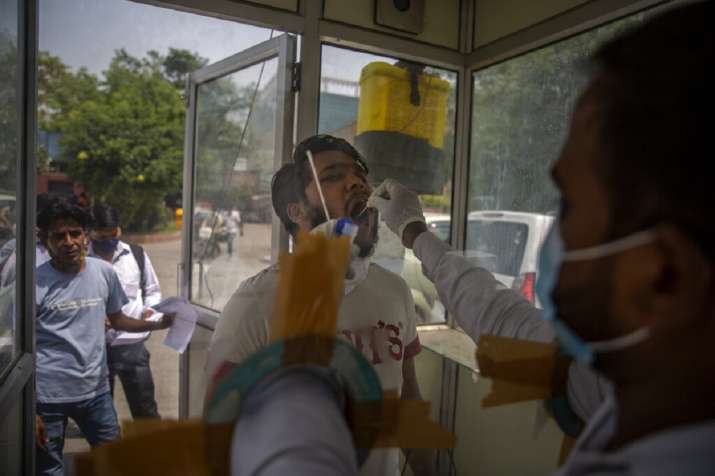 India on Friday recorded a massive surge of 1,31,968 Covid-19 cases in the last 24 hours, according to Union Health Ministry. With this, India's tally now stands at 13,060,542. India is now the 4th-worst hit country in terms of active cases. As many as 780 people succumbed to the infection, highest since October 18, taking the death toll to 1,67,642.
Out of this, Maharashtra added 56,286 new cases to its tally and the total number of cases has now reached 3,229,547, according to health department. While Delhi logged 7,437 coronavirus cases in its highest single day spike this year.
Registering a steady increase for the 30th day in a row, the number of active COVID-19 cases increased to 9,79,608, which is 7.5 per cent of the total infections, according to the data updated at 8 am.
The recovery rate in the country has further dropped to 91.22 per cent, it added.

The active COVID-19 caseload in the country was recorded at its lowest of 1,35,926 on February 12, comprising 1.25 per cent of the total infections.
The number of people who have recuperated from the disease surged to 1,19,13,292, while the case fatality rate has dropped to 1.28 per cent, the data stated.
According to the Indian Council of Medical Research (ICMR), 25,40,41,584 samples have been tested for COVID-19 in the country so far, including 13,64,205 on Thursday.
The 780 new fatalities include 376 from Maharashtra, 94 from Chhattisgarh, 56 from Punjab, 39 from Uttar Pradesh, 36 from Karnataka, 35 from Gujarat, 27 from Madhya Pradesh, 24 from Delhi, 19 from Tamil Nadu, 18 from Kerala and 11 from Haryana.

A total of 1,67,642 deaths due to the disease have been reported so far in the country. The figure includes 57,028 fatalities from Maharashtra, 12,840 from Tamil Nadu, 12,767 from Karnataka, 11,157 from Delhi, 10,370 from West Bengal, 9,003 from Uttar Pradesh, 7,334 from Punjab and 7,268 from Andhra Pradesh.
Meanwhile, Prime Minister Narendra Modi on Thursday chaired a virtual Covid review meeting with Chief Ministers of states as the country goes through the second wave of coronavirus, with daily cases exceeding one lakh mark.
"A challenging situation is emerging again. I request you all to give your suggestions to tackle the COVID-19 situation," PM Modi said.
PM Modi said that people have become far too casual in their approach towards covid appropriate behaviour.
"Once again we need to raise awareness about the importance of wearing a mask and following COVID-19 safety protocols," he said during a review meeting with chief ministers.
Meanwhile, Prime Minister Narendra Modi also ruled out imposing any lockdown in the country, however, he emphasized the need to identify micro-containment zones in a mission mode.
"We must concentrate on micro-containment zones. In places where night curfew has been imposed, I would urge to use the word 'Corona Curfew', to continue alertness about coronavirus. It will be better to start curfew timing from 9 pm or 10 pm till 5 am or 6 am," Modi said. 
PM Modi also proposed to observe 'Tika  Utsav (vaccine festival)' for COVID-19 from April 11 (Jyotirao Phule's birth anniversary) to April 14 (B R Ambedkar's birth anniversary)