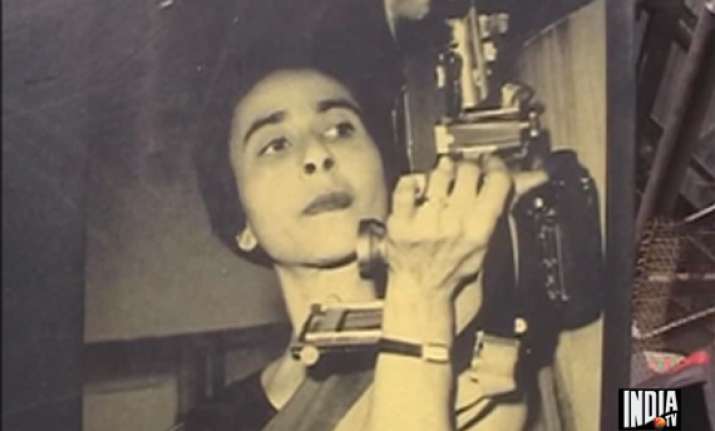 Vadodara, Jan 15: India's first woman photo- journalist Homai Vyarawala died at a private hospital here this morning at the age of 98.

She fell from her cot three days ago and was hospitalised at a private hospital, officials said.

Her husband Maneckshaw Vyarawala predeceased her in 1970.

Born on December 9, 1913 to a Parsi family, Vyarawala grew up in Mumbai and moved to Delhi in 1942 where she photographed events leading to Independence, as an employee of the British Information Services.

She took photographs of key events that would have a decisive impact on Indian history, including a meeting where leaders voted for the June 3 plan for India's partition.

She also photographed the first flag hoisting ceremony at Red Fort on August 15, 1947, the departure of Lord Mountbatten from India and the funerals of Mahatma Gandhi, Jawaharlal Nehru and Lal Bahadur Shastri.

She was awarded the Padma Vibhushan in January last year.

According to Vyarawala's neighbour Amarnath Mishra, she had fractured her back due to the fall.

"Soon after learning that she had fallen off her cot, my wife rushed to her house and shifted her to the hospital," he told PTI.

Because of her old age it was not possible to carry out a surgery, he said.

Vyarawala was staying alone in her house and was active till she breathed her last, Mishra said, adding her funeral would be held tomorrow.

According to him, Prime Minister Manmohan Singh had sent Vyarawala a letter greeting her on her birthday last year which she liked to show to people.

Vyarawala was born in Navsari town in south Gujarat. After studying at the Bombay University and the J J School of Art, she started her career in the 1930s.

She shot her first photo in 1938 a picnic party of women from the Women's Club in Mumbai. Her first published pictures were in the Bombay Chronicle which paid her one rupee for every photograph.

She got noticed at the national level when she moved to Mumbai in 1942 with her family, before moving to Delhi where in the next 30 years she photographed many political and national leaders.

An obtrusive photographer who liked to capture her subjects in their natural poses, Vyarawala has also covered the visits of Queen Elizabeth and former US President Dwight D Eisenhower.

She took a number of memorable photographs during her career. Her favourite subject was Nehru.

During her last interview with PTI, she said, "Nehru used to get surprised whenever he saw me in his functions and used to remark 'you too have come here?"

She was in the profession for nearly four decades before retiring in the early 1970s.

Vyarawala worked under a different professional name and the identity she had chosen for herself was 'Dalda 13'.

The reasons for her choosing such a name were that her birth year was 1913, she got married at the age of 13 and her first car's number plate read 'DLD 13'.

After receiving the Padma Vibhusan award last year, she had said that it was her husband who encouraged her to take up photography.

Vyarawala moved to Vadodara after the death of her husband in 1973.