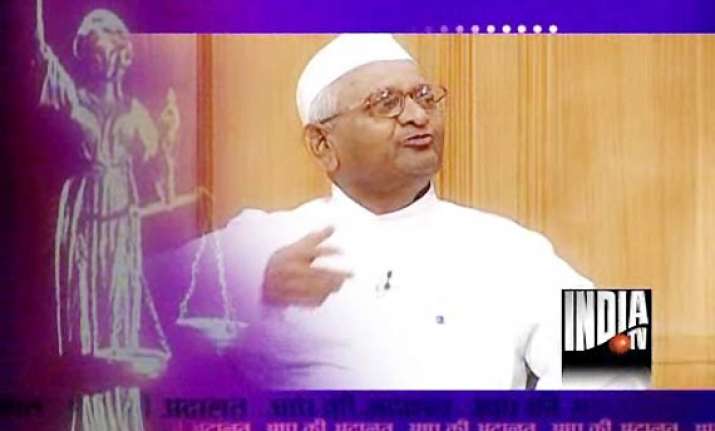 New Delhi, Jun 17: A combative Anna Hazare told Rajat Sharma's Aap Ki Adalat that he and his supporters were ready to go to jail on August 16, if prevented from sitting on fast on the Lok Pal bill issue.
 
"Nahin baithne denge, toh jail jayenge", was Hazare's reply when asked what he would do if the government did not allow him to sit on fast.
 
Hazare said, he and his supporters were ready to face lathis. "Desh ke liye lathi khaane me kya harz hai" (what's wrong is facing lathis for the country), he added.
 
The Gandhian activist said, he had initially much hope from Sonia Gandhi and the PM.
 
"Wohi aasha ki kiran the, par beech me kya gadbad  hua pata nahin. Sarkar palat gayi" (They were the rays of hope, but I do not know what hapened in-between, the government changed its stand)
 
Hazare said, the new Jan Lok Pal, if instituted, would "put brakes on at least 60 to 65 per cent of corruption prevalent in the country"  ("100 per cent to nahin, lekin 60 se 65 per cent corruption par brake lag jayega").
 
The poor will get relief and justice, he promised. Within five years, you will see the people enjoying the fruits of 'second independence' if Lok Pal is set up, said Hazare.
 
Asked by Rajat Sharma what would happen if the Lok Pal, like the recent CVC  P J Thomas was found controversial, Hazare replied: If the Lok Pal did anything hanky-panky, he would be thrown out by a 5-member high-powered committee.  ("Agar Lok Pal ne gadbad kiya toh  5 logon ki high powered committee hai, Usko nikal degi")
 
The Gandhian activist reminded that it took him 10 years to get the Right to Information enacted. "Had I entered politics and had been a minister, the RTI would not have become a reality", he said. Hazare ruled out entering politics, saying that he would lose his deposit if he contested.
 
Hazare said he had condemned the Delhi police action on Swami Ramdev's sleeping supporters at Ramlila Maidan  as "throttling of democracy".
 
Asked by Rajat Sharma, what will he do if the government resorted to similar action against him on August 16, Hazare replied : "Let them beat us. We will face the beatings for the good of the nation" ("To thik hai, maaro. Maar khate rahenge desh ki bhalaai ke liye")
 
"But let me tell you, it's people's power which is demanding its right and the government will have to accept", said the indefatigable Gandhian activist.
 
Hazare rubbished allegations that he was being "remote-controlled" by RSS.
 
"It's ridiculous. I have never worked for any political party. I don't find the nation's future in any party. These people (Congress leaders) sitting in high positions are spreading lies. For one of them (Digvijay Singh), I had said he should be sent to a mental hospital."
 
Hazare said, it was only because of RTI that the Adarsh scam came to light. "Yet they are not throwing the accused into jail. So, Lok Pal is the next stage. This Lok Pal bill provides for throwing such corrupt people into jail", said Hazare.
 
The Gandhian activist said, he had sat 10 to 11 times on indefinite fasts throughout his life, and some of the fasts stretched to 13 days. "So to say, that I am being instigated to sit on fast is incorrect".
 
Hazare alleged that the Prime Minister was being subject to "remote control".
 
"I agree he is an honest Prime Minister, but what cane he do? He is subject to remote control.  It's like somebody telling him - Chup baitho, nahin toh kaan katega (sit silent, or I will tweak your ears)"
 
Do not miss Anna Hazare and Arvind Kejriwal in Rajat Sharma's Aap Ki Adalat to be telecast on India TV on Saturday (June 18) at 10 pm and on Sunday (June 19) at 10 am and 10 pm.