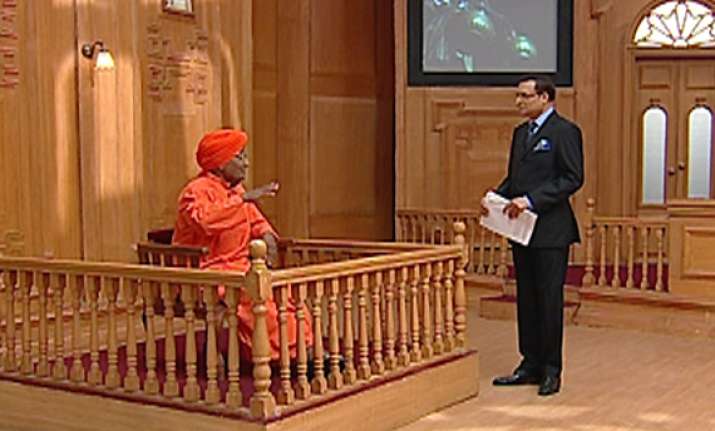 New Delhi, Nov 19: Former Team Anna member and social activist Swami Agnivesh has said, he had recorded his dissenting note in the minutes of Team Anna's core committee as he did not want Anna to sit on fast unto death.

Replying to questions from Rajat Sharma in India TV's  Aap Ki Adalat show, Swami Agnivesh described in details his differences with Team Anna during Anna Hazare's fast at Ramlila Maidan. "You can call it dissent, which is essential in a democracy", he said.

"I wanted Anna Hazare to sit on indefinite fast, but not on fast unto death. At the core committee meeting on August 13th, I raised this point and my dissenting note was formally recorded, at Anna's insistence", revealed Agnivesh.

"How can you sip juice or eat malai seeing a 74-year-old man sitting on fast? It's just like asking somebody to go and hang himself (Hindi proverb: Chad jaa beta sooli par, bhali karenge Ram)", said Agnivesh lashing out at some of the members of Team Anna, without naming them.

"Some people wanted the Anna movement to continue so that they could grab the leadership. How can they ignore a joint appeal of Parliament and even the Prime Minister saluting the Gandhian?. It was a golden opportunity for Anna to end his fast, but they dragged it on for three more days. I told them, you've done the wrong thing and this will later cause grave risk to Anna's health", said Agnivesh.

On allegations that he was working as a Congress agent in Team Anna, the swami said: "At least let somebody prove how I acted as an agent."

On playing out the video in which Agnivesh was speaking to somebody he named as Kapil Maharaj and was describing Anna was a 'pagal hathi' (mad elephant), Agnivesh said, he was speaking to Pandit N K Sharma, an associate of Shankaracharya Swarupananda Saraswati.

When Rajat Sharma read out the telephone number to say that the phone belonged to Salman Khurshid, Swami Agnivesh admitted that the call had indeed come from the Law Minister, but the person he spoke to was not Kapil Sibal.

"I was speaking on the phone, when a cameraman tried to take  my pictures. My associate tried to stop him, but he said the mike was off and he was only taking a long shot. I can name that channel. The channel refused to telecast it saying it was unethical to telecast a private conversation, but the video was later posted on YouTube and was played by other channels."

Swami Agnivesh said, he suffered a lot of insults during the Anna movement. "I even wept sitting alone. I had faced a lot of insults. But I decided not to speak otherwise it could weaken Anna's movement."

Pressed by Rajat Sharma on who were the ones who insulted him, Agnivesh mentioned the Bollywood film song : "Parde me rahne do, parda na uthao".

Agnivesh said, it was not the Delhi Police but the Home Minister of India who had ordered the police action against Swami Ramdev's followers at Ramlila Maidan on June 4 night. "The same minister ordered that Anna be arrested on August 16. I condemn both the decisions", he added.

On his recent 3-day stint in the TV reality show Bigg Boss, Swami Agnivesh said, if given a chance, he would join the show again, and even think of working in Bollywood films to spread the message of spirituality.

"I had gone there (to Bigg Boss house) to face a big test. I went there knowing that I could be insulted by the participants. My friends advised me not to go, but when I saw the participants fighting among themselves, I found such quarrels were routine, which also happen in Parliament and state assemblies too.

"I then taught the participants how to live a clean life. Throughout the three days that I stayed there, they did not cook anything non-veg, not even an omeletter, and had kept separate plates for me.

"The girls in the show, whom I consider as my daughters, showed me a lot of respect and listened to my teachings. I spent three days in the Bigg Boss house and while coming out, I became emotional.

"The girls gifted me a T-shirt. Transgender Lakshmi wrote 'Living under your feet was divine', Juhi Ram wrote 'Your teaching touched our hearts, your being is a blessing, your thoughts awakening, we are with you', the Afghan girl Vida Shamszai wrote  'Thanks for a much needed visit. You brought peace and love.'"

Swami Agnivesh in Rajat Sharma's Aap Ki Adalat will be telecast on India TV on Saturday (Nov 19) at 10:00 PM and on Sunday (Nov 20) at 10:00 AM and 10:00 PM.