Follow us on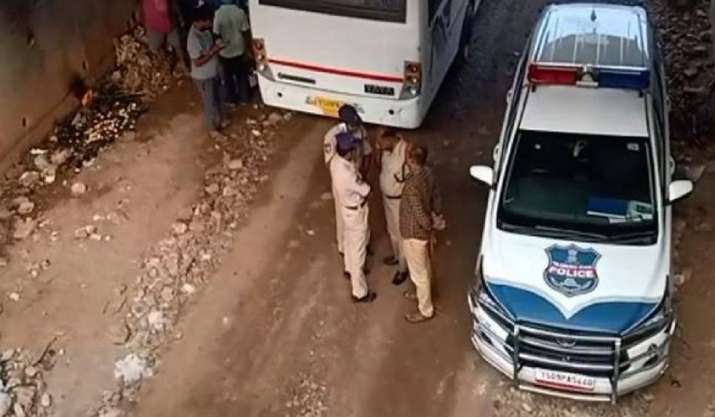 All the four accused in the Hyderabad veterinary doctor gangrape and murder case were killed during a police encounter early on Friday. The accused were trying to flee the spot as they were brought by the police to recreate the scene. As per reports, the four accused in the Hyderabad rape and murder case were gunned down at nearly 3 am on Friday.
Here are the updates:
02:52 pm: The National Human Rights Commission (NHRC) on Friday took cognizance of the killing of four men accused of raping and murdering a woman veterinarian in Hyderabad and ordered an inquiry into the police encounter. The apex human rights body said the encounter early morning on Friday is a matter of concern.
02:31 pm: Pistol seen in the hands of one of the accused in Hyderabad gangrape and murder case
02:17 pm: Hyderabad encounter result of public anger, says Gujarat Chief Minister Vijay Rupani
01:56 pm: Such encounters should be made legal: BJP's Locket Chatterjee on Telangana case
01:34 pm: It's wrong and can't be supported. Police taking law in their hands&making a mockery of it can't be supported. An inquiry should be done.Just because some people are supporting the encounter doesn't make it right.Some even support lynching: Husain Dalwai, Congress on Telangana encounter
01:05 pm: I don't know the facts of what happened in Hyderabad. As a responsible person, all I can say is, it must be thoroughly enquired into, to find out if it was a genuine encounter whether they were trying to flee or it was anything else: Chidambaram on Telangana encounter
12:48 pm: Seeking to justify the killing of four persons accused of raping and killing a Hyderabad woman veterinarian, a BJP member in Lok Sabha on Friday said police have not been given weapons as a showpiece and have to use when accused try to flee. Raising the issue during Zero Hour, Meenakshi Lekhi (BJP) said police had to open fire when the accused tried to escape.
12:35 pm: Congress leader Sharmistha Mukherjee has raised questions over the killing of all the four accused in the rape-and-murder case of a 25-year-old Hyderabad woman veterinarian last month and demanded an "unbiased inquiry" into the incident. "If the police version is right that they (accused) wanted to flee, then you cannot allow those who have committed such heinous crimes to get away," said Mukherjee, daughter of former President Pranab Mukherjee. "But, on the other hand, there was a lot of public outrage and public pressure on the government. If the government has taken any step under public pressure that could be an extra judicial killing, then that is a very dangerous situation for the country because it will set a precedent," she said.
12:24 pm: Being a mother, a daughter and a wife, I welcome this (Telangana encounter), or else they would be in jail for years. Nirbhaya ka naam bhi nirbhaya nahi tha, logon ne naam diya tha,mujhe lagta hai use naam dene ke bajaye inhe aisa anjaam dena zaruri hai: Independent MP Navneet Rana
12:02 pm: Cyberabad police to shortly address a press conference on the encounter of four accused in Hyderabad gangrape and murder case 
11:59 am: The forensic team will take the bodies of the accused to Mehboob Nagar District hospital for postmortem
11:57 am: Forensic team arrives at the encounter spot to examine the dead bodies of Hyderabad rape-murder accused. Dead bodies of all the four accused are lying at a distance of 20 to 30 feet from each other
11:46 am: Jo bhi hua hai bohot bhayanak hua hai is desh ke liye, you cannot kill people because you want to. You cannot take law in your hands, they (accused) would have been hanged by Court anyhow: BJP MP Maneka Gandhi on Telangana encounter
11:37 am: The police encounter of Hyderabad gangrape and murder accused is justice and this would give peace to every Indian. Our police and the Indian Army should take such actions on all criminals unless there is a room for doubt: Yog guru Swami Ramdev
11:36 am: What happened in Hyderabad will act as a deterrent against criminals surely, we welcome this. In Bihar as well, cases of crimes against women are increasing. The state Govt here is lax and doing nothing: Rabri Devi on Telangana encounter 
11:31 am: The rape cases that have come to light of late, people are in anger whether it is Unnao or Hyderabad, so people are expressing happiness over the encounter. It is also something to be worried about, the way people have lost their faith in the criminal justice system. Together all the governments will have to take action on how to strengthen criminal justice system: Delhi CM Kejriwal on Hyderabad encounter 
11:23 am: We should not rush to condemn until details emerge: Shashi Tharoor on Telangana encounter
11:21 am: Celebrations across country as Hyderabad police kill all four accused in Hyderabad vet gangrape and murder case
11:13 am: Women tie rakhi to policemen after encounter of Hyderabad rape and murder accused
11:07 am: Jaya Bachchan reacts to encounter of Hyderabad gangrape and murder accused, says "Der aaye durust aaye"
11:01 am: When a criminal tries to escape, police are left with no other option, it can be said that justice has been done: Chhattisgarh Chief Minister Bhupesh Baghel on all four accused in rape and murder of woman veterinarian in Telangana killed in encounter
10:50 am: People across different states hail Telangana police for the encounter of Hyderabad rape and murder accused
10:38 am: People celebrate and cheer for police at the encounter site where the four accused were killed in an encounter earlier today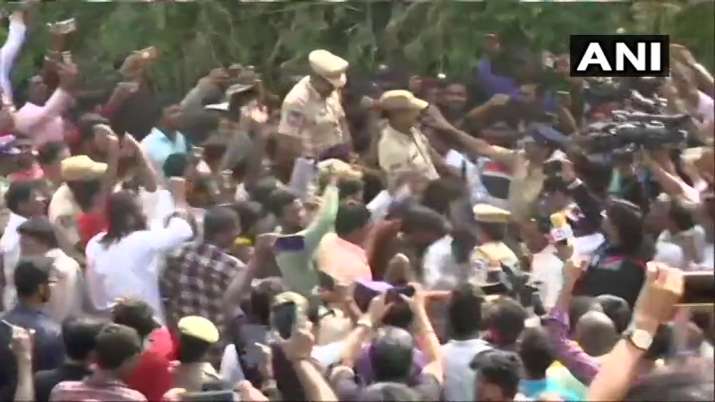 10:36 am: Neigbours of Hyderabad veterinarian celebrate and offer sweets to Police personnel after four accused were killed in an encounter earlier today
10:18 am: Hyderabad police hailed for killing gangrape and murder accused
10:15 am: Police cordon off area where Hyderabad gangrape and murder accused were killed
10:13 am: We always demanded the death penalty for them, and here police are the best judge, I don't know in what circumstances this happened: Rekha Sharma, National Commission for Women on Telangana encounter
10:09 am: As a common citizen I am feeling happy that this was the end we all wanted for them. But this end was supposed to be through the legal system. It should have happened through proper channels, says Rekha Sharma
09:54 am: Women in Varanasi distribute sweets, hail Hyderabad police for action on gangrape and murder accused
09:45 am: Heavy police deployment at the spot where accused in the rape and murder of the woman veterinarian were killed in an encounter today morning
09:38 am: "Cyberabad Police had brought the accused persons to the crime spot for re-construction of the sequence of events. The accused snatched police weapon and fired on the police. In self-defence, the police fired back, in which the accused were killed," says DCP Shamshabad Prakash Reddy.
09:32 am: Delhi, UP police should take inspiration: BSP chief Mayawati hails police action​
"Crimes against women are on the rise in Uttar Pradesh, but the state government is sleeping. Police here and also in Delhi should take inspiration from Hyderabad Police, but unfortunately, here criminals are treated as state guests, there is jungle raj in UP right now​," says Mayawati.
09:25 am: 'Absolutely unacceptable​': Lawyer and activist Vrinda Grover condemns police action​
Lawyer and activist Vrinda Grover has condemned Hyderabad police action in the case, says what the police have done is "absolutely unacceptable." "This is not the justice women had demanded," she said. "How can we confirm that these accused were the actual accused and those who committed the crime are not walking-free at large," she added. ​
09:15 am: This is the way to deal with rapists, says BJP's Kapil Mishra​
BJP leader Kapil Mishra thanks Telangana police in a tweet. "This is the way to deal with rapists," he wrote. "Hope police of other states will learn from you."​
09:10 am: Huge crowd gathers at Hyderabad crime spot, people hail police action on gangrape-murder accused.
08:59 am: People gather at the spot where the Hyderabad veterinary doctor was burnt and where the encounter of the accused took place in the wee hours of Friday
08:56 am: "It has been 10 days to the day my daughter died. I express my gratitude towards the police and govt for this. My daughter's soul must be at peace now​," says Hyderabad vet's father
08:55 am: Cyberabad Police Commissioner VC Sajjanar: The accused Mohammed Arif, Naveen,Shiva and Chennakeshavulu were killed in a Police encounter at Chatanpally, Shadnagar today in the wee hours, between 3 am and 6 am. I have reached the spot and further details will be revealed​
08:53 am: Cyberabad Police Commissioner VC Sajjanar​ arrives at the spot where rape accused of Hyderabad veterinary doctor were killed
08:51 am: We face the rape accused of our daughter in court and yet remain silent as we are waiting for justice, Nirbhaya's father says
08:43 am: The Hyderabad police should be lauded for their action on the accused in Hyderabad vet gangrape and murder case, says Nirbhaya's mother. The police, in this case, should not be questioned and such action should be taken in all rape cases, she says
08:36 am: 
08:21 am: Sister of the Hyderabad veterinary doctor​ expresses happiness over the encounter of all the four accused, says this would set an example for the entire country
08:16 am: Father of the Hyderabad veterinary doctor who was raped and murder by four expresses gratefulness for police action on accused. "My daughter will now rest in peace," the father said.
07:55 am: DCW chief Swati Maliwal says justice has been served to the Hyderabad veterinary doctor today. Every person who is accused in any rape case should be hanged to death within 6 months of the incident, Swati Maliwal says
07:30 am: All four accused in the Hyderabad rape and murder case killed in police encounter
Also Read | All 4 accused in Hyderabad vet rape and murder case killed in police encounter
Also Read | Hyderabad rape accused served mutton curry in high-security Telangana jail​
​