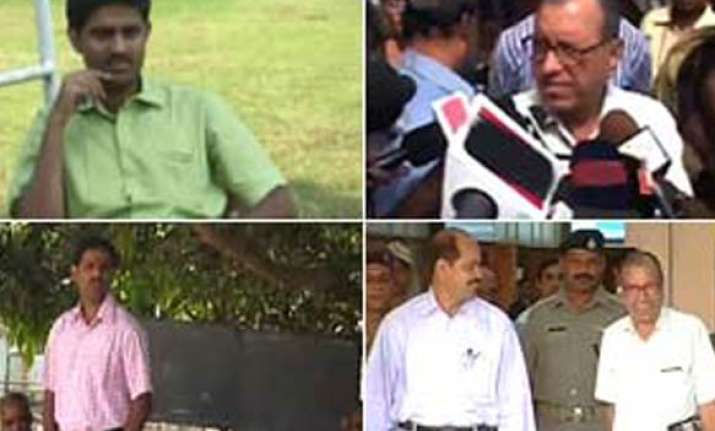 Bhubaneswar, Feb 20 : Orissa government today said there will be no combing operations against Naxals till conclusion of negotiations with the mediators for release of abducted IAS officer and a junior engineer who are safe and remained in captivity for the fifth day.
Maoist-chosen mediators assured Orissa government the hostage duo would not be harmed and that rebels would refrain from violence as long as negotiations are underway after they opened talks for release of 30-year-old IAS officer and
Malkangiri district Collector R V Krishna and junior engineer Pabitra Majhi.
The mediators said "more time" was needed to secure the release after the day-long talks amid the likelihood of some Naxals being released on bail in line with the rebels' demand. The talks remained inconclusive and would resume tomorrow.
"The mediators assured us that no harm will be caused to Malkangiri collector R V Krishna and junior engineer Pabitra Mohan Majhi when talks are on," Home secretary U N Behera told reporters while reading out a joint-statement issued after the first round of talks.
Both Krishna and Majhi are safe, Behera said.
Stating that detailed discussions were held in a congenial manner, the joint statement said it was agreed that there would not be any combing operation till the negotiations are over.
At the same time, the Maoists would not indulge in any untoward incident, disturbance or road blockade that could hamper the peace process as long as talks are on, the
statement said.
Besides Behera, Panchayati Raj Secretary S N Tripathy represented Orissa government during the negotiations while the Andhra Pradesh-based mediators were Prof Hargopal and Prof Someswar Rao.
The Naxals are demanding among other things release of about 700 tribals, now lodged in jails on charges of being Maoists and release of certain key Maoists like Ganti Prasadam. They are also demanding complete halt to joint anti-naxal combing operations in entire Orissa-AP border region by security forces of the two states.
"We are working out modalities on how to end the hostage crisis and facilitate the release of Krishna and the junior engineer.... It may take more time," Hargopal said, maintaining that the talks process has just started.
Behera said, "We are in the process of discussions. Whether some people will go to Malkangiri as part of the talks process, will have to be decided."
 He, however, made it clear that the mediators were not going to the district because of health reasons.
 While the mediators showed keenness to resolve the crisis, the state government was examining Maoist demand for release of some rebel leaders who were languishing in
different jails at present, sources said.
 The interlocutors are believed to have pressed for release of certain key Maoists like Ganti Prasadam on bail, they said. Hargopal had earlier said the jailed ultra could play a significant role in negotiating with the rebel leaders for freeing the abducted officials.  PTI