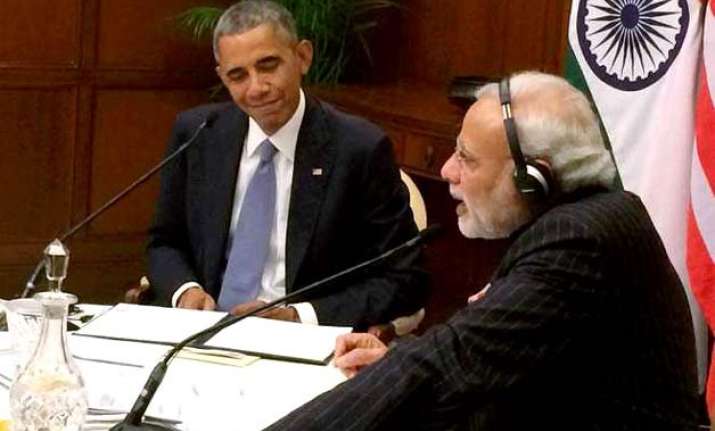 New Delhi: A special radio programme featuring US President Barack Obama and Prime Minister Narendra Modi was aired yesterday night. Avoiding hard issues like politics and foreign affairs, the joint address focused on social issues and personal matters related to the two leaders.
The programme amply reflected the personal warmth and admiration of two leaders for each other and their common view on some problems.
The 35-minute special broadcast of 'Mann Ki Baat', which marked the bonhomine between Modi and Obama, touched on issues like girl child, public health and personal experiences of the two leaders, both of whom have risen from humble backgrounds to assume to top positions of the respective countries.
Prime Minister Narendra Modi addressed American President by his first name throughout his 'Mann Ki Baat' speech:
Here are highlights of Narendra Modi's address:
I looked up the meaning of Barack, which means "one who is blessed" in Swahili.
In African cultures, they say 'I am because we are'. It is similar to our saying 'vasudhaiva kutumbakam'.
When I first went to America, we'd taken a photograph with White House in the background. Now that I've become PM that photo has become famous.
Swami Vivekananda, who delivered a famous speech at the conference, is 'the inspiration" of my life.
A tea seller or some one born to a single mother lead our nations. An example of extra ordinary opportunities in our nations.
President Obama's life, the way he has raised his daughters will serve as an inspiration for us - 'Beti Bachao Beti Padhao' is our social obligation which all of us must fulfill. 
Obama, before answering the questions, said 'namaste' to the listeners and talked about his discussions with Modi and how his country wants to be a partner in India's endeavour to lift its millions (rpt) millions of people from poverty.  
Here are highlights of Barack Obama's address:
Appreciate the PM's strong personal commitment to strengthening the relationship between these two countries.
India and US are natural partners because we have so much in common.
Keen to partner India in development of infrastructure and in provision of facilities like clean.
They (my daughters) very much wanted to come. They are fascinated by the history and culture of India.
Malia my elder daughter had exams when I go back I'm going to tell them that India is as magnificent as they imagined.
Will definitely do some shopping. I can't go to the stores but my team will. I'll take Michelle's advice.
They have to rather reach out to people in an inclusive way and have a dialogue.
Emphasis on higher education is necessary for all around development of youth which is actually strength of a nation.
 The content of Prime Minister Narendra Modi's special radio address 'Mann Ki Baat' with US President Barack Obama will soon be available in an e-book format.
After Modi made such a suggestion, senior Information and Broadcasting officials said that they would work on bringing out an e-book.