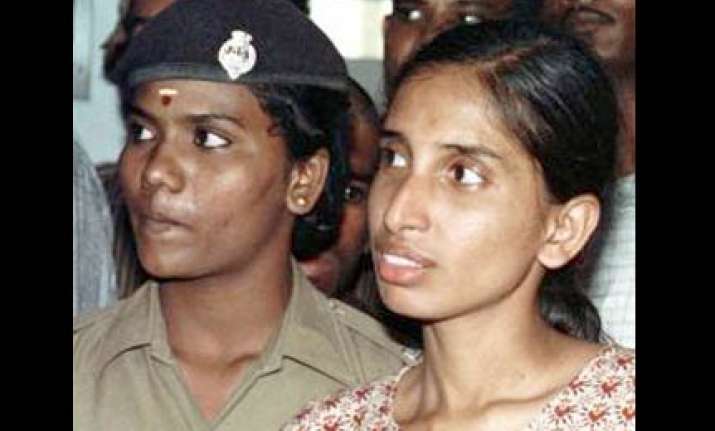 The Madras High Court on Thursday  asked the Tamil Nadu government to take a decision within two weeks on a plea for premature release by Nalini, serving life term in the Rajiv Gandhi assassination case.
"Positively two weeks," a Division Bench said when Advocate General P S Raman sought two weeks' time to furnish the government's decision on the report of the Prison Advisory Board (PAB) on the pleas of 44-year-old Nalini and two other convicts.  Raman told the bench comprising justices Elipe Dharma Rao and K K Sasidharan that the PAB's report was being examined by the government. 
"It is advisory in nature and not binding on government. It is being studied by the highest level of the government," Raman said after handing over a copy of the report in a sealed cover to the bench, as directed by it yesterday. 
The Bench is hearing a petition filed by Janata Party president Subramanian Swamy challenging a September 2008 order by a single judge directing that the state government constitute an advisory board to consider the release of Nalini, who is in prison for the last 19 years. 
Noting that he was not aware of the contents of the report, Raman said if the court wanted, it could give a direction to the government to give its decision on the report within two weeks. 
"Having created hope, once it is decided, don't delay," the Bench said.  Raman assured the court that the moment the government took a decision on the report, he would inform the court, even if it were before two weeks.  The judges posted the petition for further hearing to March 29.  
The court had yesterday rejected a government plea for two-week adjournment as it "just received the report" and directed that the PAB report be produced before it today.  In January, the board had heard the pleas of Nalini and two other convicts Jayakumar and Robert Payas, seeking premature release.
The earlier plea of Nalini, sentenced to death by a special court along with 25 others in January 1998, for premature release was rejected by authorities in October 2007.  The Supreme Court had confirmed the capital punishment of Nalini and three others. However, her death penalty was commuted to life by the state government on April 24, 2000 allowing a clemency petition.  Chief Minister M Karunanidhi had already made it clear that any decision on the plea would be taken only in consultation with the Centre. PTI