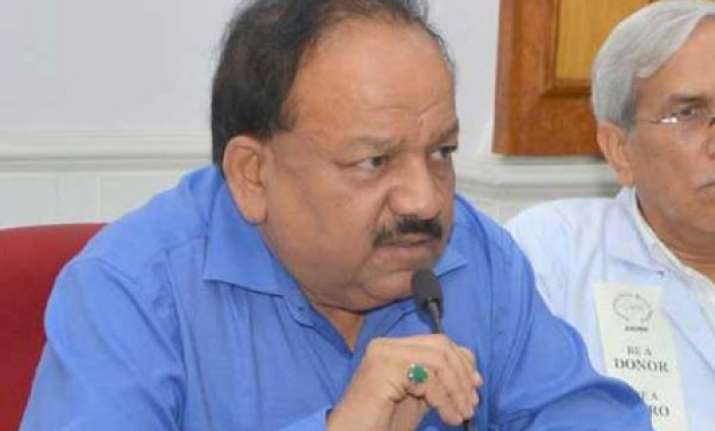 New Delhi: Asking them to 'think out of the box' to address nation's health issues, Union Minister Harsh Vardhan today made an appeal to all specialized doctors to spend at least a short duration of time in rendering services to patients in villages and hilly areas of the country.
"Even after 67 years of Independence, health for every Indian is still a distant dream. But, I believe if we can put our heart and soul to it, we can achieve it...And, therefore I appeal to all doctors, in every specialty to devote at least some time in small villages, where access to specialized medical services is not easy," he said.
The Health Minister, who was speaking at the launch of World Simulation Society here, also urged the doctors to 'use and revive the ancient wisdom of India' in solving medical problems.
"It is time for us to think out of the box, think afresh and have a new dream. And, I think that we have the intellectual acumen to find out new solutions for the health issues that is still holding us back," he said.
"I am not asking doctors to leave their practice here and go to a village. But, an arrangement could be worked out whereby let's say, doctors could visit a village or a hill town voluntarily or during a vacation, where the boarding and lodging could be arranged locally," he said.
The minister also said that the government was planning to soon start a series of programmes and workshops, aimed at raising awareness about eradicating 'preventable deaths'.
"Here, everyone has been talking about treatment and not prevention. And, through a series of activities and workshops, involving various health officials and different departments, we will be very focused on prevention of diseases, early diagnosis of preventable diseases," he said.
"Efforts are already on to upgrade district hospitals, turn hospitals into super-specialty hospitals, open AIIMS-like institutions and new AIIMS in various cities across the country," he added.
The World Simulation Society aims at raising awareness about creating simulated medical environments through dummy patients, to prepare doctors and others for conditions such as trauma and emergency.