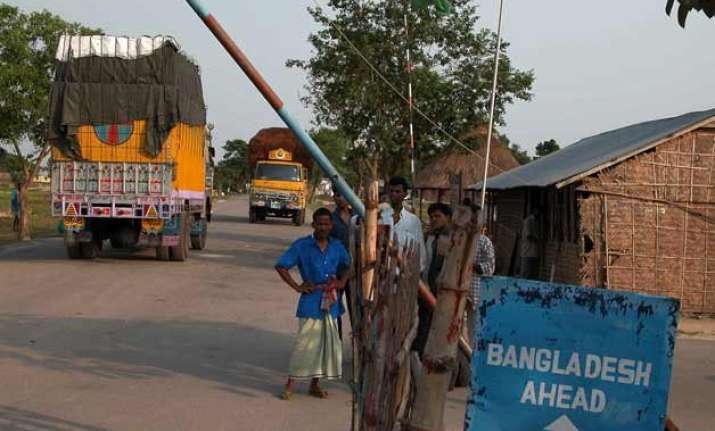 New Delhi: Ahead of Prime Minister Narendra Modi's visit to Bangladesh likely in the first week of June, the country's envoy Syed Moazzem Ali on Thursday expressed happiness over the Land Boundary Agreement with Bangladesh has been "finally settled".
"I express my deep appreciation to Prime Minister Modi and his government for the farsightedness and wisdom shown in early conclusion of LBA," said Ali.
According to the high commissioner, Bangladesh Prime Minister Sheikh Hasina "actively pursued the negotiations" on the land swap deal with Modi during their meetings, both in New York in September last year and in Kathmandu, where the two leaders met on the sidelines of the SAARC summit in November last year. 
Besides, Hasina was also "directly in touch" with Modi, the envoy said.
He hailed the resolution of the two border issues, including the maritime boundary and the LBA.
In January this year, the UN tribunal ruled in favour of Bangladesh in the maritime border dispute and awarded it 19,467 sq. km of the 25,602 sq. km sea area of the Bay of Bengal.
Ali said with the LBA and the UN ruling on the maritime border, the settlement of their borders was done. "Good borders make for good neighhours", he said, adding that it can otherwise lead to tension.
Speaking at a programme organised by the Indian Association of Foreign Affairs Correspondents, Ali said he hoped the process of implementation of the Land Border Agreement "will start soon and the process completed in a matter of months".
The land swap agreement envisages transfer of 111 enclaves with a total area of 17,160.63 acres from India to Bangladesh, while 51 enclaves with an area of 7,110.02 acres are to be transferred to India. A 6.1-km undefined border stretch will be demarcated with the bill being passed.
On Modi's proposed visit to Bangladesh, the envoy said that hectic preparations are on but that "no date has so far been finalized".
He said the details of the programmes, including the places Modi is likely to visit, are being worked out.
Ali also said that there has been significant progress in terms of bilateral relations and praised the Indian government's "neighbours first" policy and the sub-regional integration.
Ali said "If India has to look east, the first country it will look upon will be Bangladesh".
On May 7, the Indian parliament passed the constitutional amendment bill relating to the Land Boundary Agreement with Bangladesh.