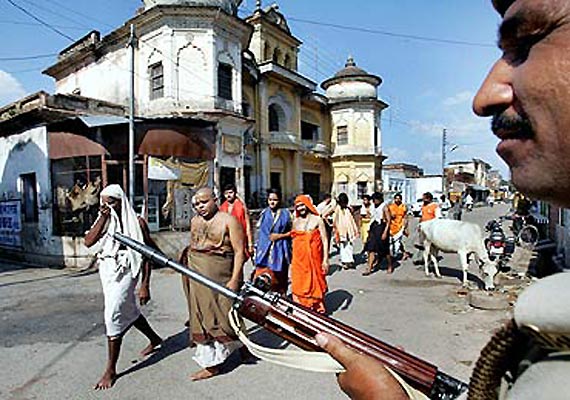 Lucknow, July 22: Firing between two groups of seers in the temple town of Ayodhya Sunday left one dead and three injured, police said.
The deceased was a labourer Bharat from Barabanki. Seers Anil Das, Chela Balram Das and a passerby were wounded in the firing. Both sides have lodged complaints and the incident is being investigated, police said.
The two groups fired at each other over a dispute on blocking the passage to a building. As news of the passageway being blocked by one group spread, seers from another sect gathered and opened fire from rifles. Seven rounds were fired, police said.
"The two groups owed allegiance to Mahant Bhavnath Das and Mahant Harishankar Das, both from Hanumangarhi," said an official. Mahant Bhavnath Das is national president of Samajwadi Sant Sabha, an outfit of the ruling Samajwadi Party (SP).
"We are probing the matter and we will ensure hostilities do not escalate," a police officer told IANS. Police presence in the area has been increased as it is near the Ram Janm Bhoomi dispute site.